Before the Kansas City Chiefs were set to hit the field, and while many were enjoying the final months of the offseason, select players teamed up with 12 childhood cancer heroes in honor of Braden's Hope.
"Braden's Hope for Childhood Cancer" is a non-profit foundation named after Braden Hofen, an 8-year-old courageous warrior who's fought relapsing neuroblastoma and a form of secondary leukemia caused by the treatments to save his life.
"Braden was diagnosed with cancer when he was three. It relapsed when he was about 5 years old and when that happened, three months later I found out that I had breast cancer," Braden's mother, Deliece Hofen, said. "I had all of these targeted therapies for my cancer and all of this hope for me, and Braden had less than a 10 percent chance for survival.
"There were no targeted therapies for him. That's when I realized that we had a huge discrepancy."
From there, Braden's Hope transpired to create awareness and increase funding for research needed to find cures for other childhood cancers.
Each year, various children assist in the production of a 12-month calendar to help raise funds for research, and the highlight is getting the chance to hang with their own local heroes—the Kansas City Chiefs.
Chiefs linebacker Josh Mauga, who was teamed with Sierra, who is recovering from sarcoma, a soft-tissue cancer, said that witnessing her resilience through her process serves as a personal motivation.
"They go through so much. We go through our ups and downs as a team and we have bumps and bruises, but what we go through is nothing compared to what these kids go through," Mauga said. "It's just awesome to be able to bring them out for one day to let them enjoy and have fun and not have to worry about treatments or anything that has been going on in their lives.
Since 2011, Braden's Hope has raised over $1.2 million in research grants for childhood cancer research, all the while giving a reciprocated memory for all involved.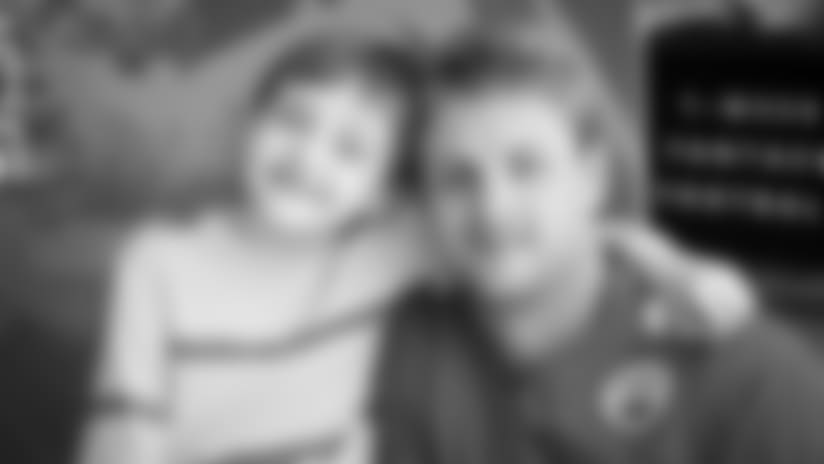 "These guys are their idols," Deliece said. "The kids go in with the guys being their heroes, and I think when they walk out, they guys realize the kids are their heroes."
"It's just another reason why you love being a Chief," tight end Travis Kelce said. "Kansas City gives us all the support in the world. It's special. And for us, it means that much more, to not only give back, but to give back to the entire city. We jump at opportunities like this to help out."
Through various contributions, Braden's Hope continues to strive for every child battling against cancer.
"Our goal is really, that no family is ever going to have to hear, 'no known cure,' again," Deliece added. "There's always going to be a treatment that we can give to try and help them so the kids have a chance to fight for their lives."
Other Chiefs included in the "A Year of HOPE" calendar include Jamaal Charles, Jeremy Maclin, Dustin Colquitt, Mitch Morse, Derrick Johnson, Jaye Howard, Ron Parker, Anthony Sherman, Allen Bailey, Mitchell Schwartz and Jah Reid.