During the offseason, many of the Chiefs players continue their workouts, take vacations to relax, or visit family for some quality time. Some players take college courses to finish their degrees and others participate in a short internship or shadowing program.
"This is the best time of year for players to get caught up on finishing their degrees or exploring different careers that interest them," BJ Stabler, Chiefs Player Engagement Manager said. "When they enter the program, we give them a career interest survey to try to determine what they may like to do during the offseason or after their football career. Under the direction of our VP of Administration, Kirsten Krug, we help get them involved in job shadows to find where their passion lies and what it is they may want to do after their football career."
Recently, three Chiefs players visited the Shawnee Mission Fire Department to shadow the firemen for the day. Sean McGrath, Eric Kush and Nico Johnson wanted to learn more about the responsibilities of a fireman, including how they train, prepare and react to a fire.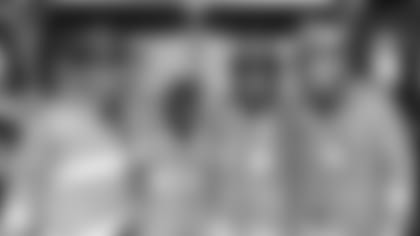 (Photo above: Eric Kush, Rahman Anjorin with Chiefs Player Engagement, Nico Johnson and Sean McGrath)
"We took a day to visit the Shawnee Mission Fire Department and they gave us insight into what it's like to be a firefighter," Sean McGrath explained. "They gave us a full tour, let us demo the oxygen tanks, and we put on the gear; it was a cool experience."
They each tried on the gear, learned about the trucks, went through some of the training courses, plus they climbed a 70-foot ladder.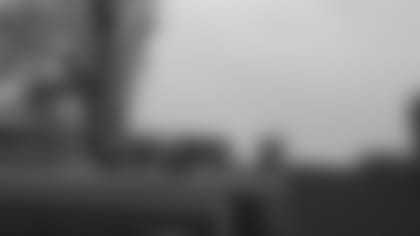 "They let us climb up the ladder off of the truck and McGrath went first and did it like a champ…I was a little more nervous," Eric Kush commented. "It was cool, because you could see all of Kansas City from up there, but as your climbing up, it gets skinnier and skinner, so I was about halfway on it by the time I was at the top. I was holding on for dear life."
The group also went through an obstacle course, after putting on all of the gear. They crawled through the course, which was designed to simulate a typical house. The course is changed every month to continue to challenge the group and help them learn how to get through obstacles and find a way to overcome a problem quickly.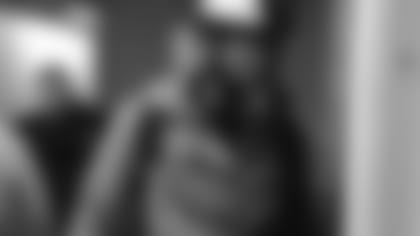 "It's like being in a dark house and you have to overcome the obstacles in your way," McGrath said. "We had on all the gear with the oxygen tanks and firemen hats and you couldn't really see anything. Plus, with all the gear on, we were all sweating, I couldn't imagine if there was actual fire, because it was already hot."
The group had to make their way through the house and into the attic, where they had to crawl through a small space and hanging wires.
"It was really difficult," Kush admitted. "We were breathing heavy and you couldn't really see anything so it was a challenge. We made our way through the house and they were switching the lights on and off and we had feel the walls and doors to get through. Then, we crawled into the attic and had to walk on the beams as to not fall through, had to keep low and then learned the technique on how to swim through the wires, without getting hurt or getting it tangled in your gear."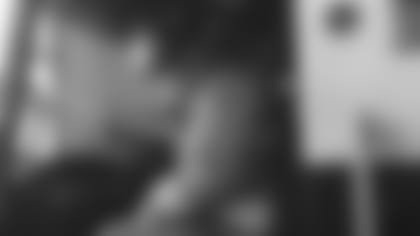 While they were shadowing the firemen, they received a medical call. The sirens rang, the trucks were ready and the group quickly took off for the house of an older woman.
"At first, we thought it was a joke, that they were just trying to scare us," Nico Johnson explained. "It was crazy; we really quickly got into the truck and headed over to the house. When we got there, we realized how serious it was and it was eye-opening to see what these men are trained to do."
The elderly women needed assistance and the fire department's medical staff was there to check her condition and help her recover.
"After seeing all that these firemen do and how they risk their lives for others, you gain a new appreciation for them," McGrath noted.
Each player entered the fire department with respect for the firemen, but after experiencing their job firsthand, they ended the day with a refreshed perspective and new kind of appreciation.
"After my football career, I think that one day, I may want to be a firefighter and after seeing what they do, I think it's an awesome profession," Kush said. "It was really tough just putting on all the gear and crawling through their training program. I have so much appreciation for these guys. It's a tough job and I have a tremendous amount of respect for these people."
The Chiefs would like to thank Chief Mattox, Chief Rawie and the entire Shawnee Fire Department for the opportunity to learn from them, as well as for their dedicated service to our community.