One day after returning from their league-mandated day off, the Kansas City Chiefs were back on the practice fields Wednesday, but not before Chiefs head coach Andy Reid addressed the media, providing an update on the Sunday playing status of Chiefs WR Dwayne Bowe.
"I'll address the Dwayne Bowe situation now," coach Reid said. "It is a legal matter and that's the way we'll handle it. We'll let it run its course, here. Dwayne will play; he'll start. There are rules and regulations put in place and we'll abide by the rules and regulations and we'll make sure that we take all the information with it as it goes through the process. That's where we're going with it; that's the facts of what I've got for you."
Coach Reid continued by describing his team's collective focus on the most important task at hand, preparing for the 8-1 Denver Broncos.
"I'm sure the question will come up about the Dwayne part being a distraction," coach Reid said. "I think this football team is focused in on the Denver Broncos, solely on the Denver Broncos. That's how I felt this morning; I can't tell you about the future, I can tell you about this morning; I didn't see any part that this was a distraction and that's important that we're focusing on a good football team that we're playing in the Denver Broncos.
Minutes after coach Reid finished with his press conference, Chiefs QB Alex Smith emphasized the team's focus on the monumental division game against the Broncos.
"Our focus is to go 1-0 this week," Smith said. "It's a huge division game at hand. We're going on the road and that's where our focus is. I think any time you've been playing in big games and for us, the stages have been getting bigger and bigger, as the weeks have gone on, certainly, this one is a little step up, but I think those are all good experiences, because in the end, it's a football game. I think there's a little more that comes with it and for us, it's to put all that stuff aside and focus on the details."
Smith revealed where the team-wide focus begins.
"I think it starts with the environment within the building," Smith said. "The environment in the locker room, where the focus is and the mindset of guys and for us, I think we have a bunch of guys that are focused on winning, doing things the right way and for me, that starts in preparation; that starts during the week, practice, film room, meetings and all that."
Helping protect Smith on Sunday will be a Chiefs offensive line that includes G Jeff Allen, who previewed the talented Broncos defense.
"They're good, especially in the pass rush," Allen said. "Things we need to do are sustain drives and run the ball well, so they don't get in the situations, where we become predictable."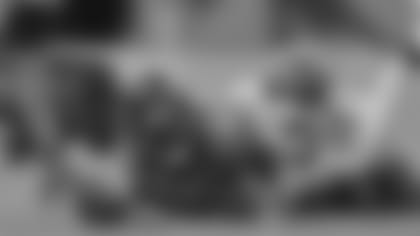 On the defensive side of the ball, Chiefs LB Derrick Johnson echoed Alex Smith's thoughts on the unshakable focus of the 2013 Chiefs, which starts with coach Reid.
"We have enough guys on the team that we know we won't be distracted this week," Johnson said. "Andy Reid is a guy that can stand up in front of us with confidence; he's our leader of this team. We follow his lead. We won't be distracted. We have a big game this week. We'll be ready to go."
Preparation for Sunday's game continues Thursday, when we'll hear from the Chiefs special teams coordinator Dave Toub, offensive coordinator Doug Pederson and defensive coordinator Bob Sutton.