The Kansas City Chiefs face the New Orleans Saints one week from today, in the Big Easy. Until then, Chiefs head coach Andy Reid's team continues to compete against each other, getting the best out of all three phases.
Friday's practice included some rain, some wind and a whole lot of real-game energy and vibe, as well as a collective response by the Chiefs offense from Thursday's practice.
Chiefs TE Anthony Fasano was a part of the offensive resurgence on Friday, but despite the success, he wanted to discuss how the team can improve.
"We have our ups and downs," Fasano said. "Our ups are very promising, but we have to learn how to limit the downs and when the downs happen, to be able to make them stop quickly. Our defense is playing great and is giving us a big challenge and I think it's only going to suit our offense a little bit better."
Chiefs offensive coordinator Doug Pederson also addressed the media after Friday's practice and offered more insight into the training camp battles between the offense and defense.
"It's a training camp day," Pederson said.
"Offense is going to win a day, they're going to lose a day; it's just the way training camp is set up and these guys are working extremely hard and we had a lot of good teaching film from yesterday and the guys responded nicely today. We did red zone today, which is obviously a new set of plays for us and it presented some opportunities for our offense to make those plays."
One of leaders of the Chiefs offense today was QB Chase Daniel, who made the most out of his opportunities.
"I felt good today," Daniel said. "I felt like as an offense, we came out, sort of got our butts whooped yesterday by the defense and I feel like today, the offense answered and that's good to see."
Daniel excelled in the red zone work that coach Pederson eluded to above.
"It's always good to get red zone work," Daniel admitted. "Things happen a lot faster down there, lanes are a lot tighter, especially inside the ten-yard line. I feel like we got some really good work in."
Chiefs WR Junior Hemingway had a brilliant day on Friday, earning the praise of Daniel.
"I think Junior Hemingway has had a great camp, so far," Daniel said.
"I think he's really come on. I think he's really learning how to use his body in coverage and how to get open. I think he's coming along great."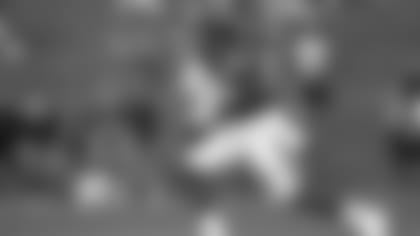 Hemingway is determined to improve each and every day, especially as the first preseason game is only one week away. His hard work and dedication to improving was evident on Friday.
"It was red zone day," Hemingway said. "When the offense gets in the red zone, we have to score. So, we were just trying to make sure the timing and everything was right on each play; make sure we get the coverages down, the quick throws and everything down, so we can be in sync with the quarterbacks."
One of the guys responsible for creating chaos to disrupt QBs and opposing offenses in general is Chiefs DE Mike DeVito, who evaluated the competitiveness at Chiefs Camp.
"I think in training camp, you're going to have a lot of back and forths," DeVito said. "We're out here to make each other better. There's a lot of great competition, even inside, things that are hard to see, O-line, D-line, things like that. I think it's been a really competitive, really tough camp and it's building a great team and it's great to see."
Chiefs rookie LB Nico Johnson echoed DeVito's thoughts.
"They're throwing a lot at us," Johnson said of the Chiefs offense. "They have a lot of weapons on that side of the ball and we just have to be on our stuff every day to compete with them. We feel like they're a great offensive team and we're a great defensive team and if we can beat them, we can beat anybody in the league, so we just want to go out every day and that's our mindset."
As practice neared its end, Chiefs special teams coordinator Dave Toub and assistant Kevin O'Dea led the team in drills that are preparing to maximize its return men, including Chiefs WR Dexter McCluster.
Once finished, coach Reid later called the players in for a final huddle and then players addressed the fans, media and off to the locker room.
The competition on the field continues tomorrow morning at 8:15 AM CDT.
MUST-MENTION MOMENTS FROM FRIDAY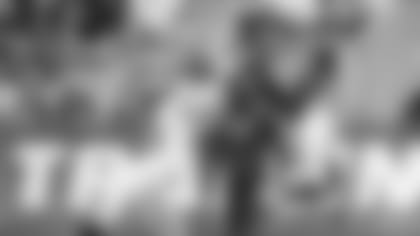 1) One of the best grabs of the day was made by Chiefs rookie WR Frankie Hammond Jr.
2) Chiefs Pro Bowl LB Derrick Johnson had an INT in the end zone, battling Chiefs WR Donnie Avery. Unbelievable catch by DJ.
3) Great individual efforts by the OL and DL today, including Chiefs top pick Eric Fisher versus Chiefs DE Austen Lane. I saw two reps between the fierce competitors and each player won one.
I asked Austen what he's been seeing from Fisher in camp, so far.
"He's been really great in camp," Lane said. "He's great. His feet; he's really athletic. I'm more of a speed guy, so I like to work the moves and jukes and things like that; he doesn't really bite on them, that much. His footwork is great and he's going to be one heck of a player, obviously."