They're hanging on flag poles, adorning living room walls and garnishing cubicles at work. Really anywhere you look, it doesn't take long to spot a Red Friday flag in Kansas City.
For six years, these flags – annually crafted with a new design – have ignited excitement for the upcoming football season, but their impact goes far beyond the gridiron. Red Friday flags continue a tradition 28 years in the making, and this season was no different, as the Kansas City Chiefs once again celebrated the return of football by rallying support for those in need throughout our community.
Red Friday flag sales, in addition to funds from the Hunt Family Foundation 50/50 Raffle during the home-opener on Sept. 22, raised a record $550,890 this year, all of which was donated to Ronald McDonald House Charities of Kansas City on Monday to aid the organization's mission of supporting families with children in the hospital.
The check presentation was made possible through both the generosity and passion of those throughout Chiefs Kingdom, and it once again culminated in real, meaningful impact right here in this community.
"It's hard to describe how special Red Friday is. This doesn't happen in other cities, and it happens here because of the generosity of Kansas City," said Tami Greenberg, CEO of Ronald McDonald House Charities of Kansas City. "All of the money stays local – 100 percent – to help keep families close to their sick kids…it's all about what families need when they're going through the scariest time in their lives."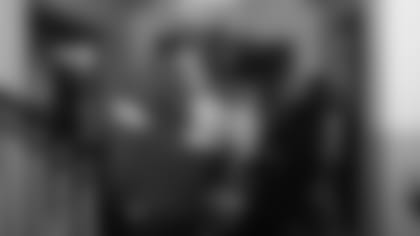 Red Friday has benefited Ronald McDonald House Charities in each of the last six years - totaling more than $1.7 million in donations – as the event has emerged from its humble beginnings to become a model for charitable fundraising across the National Football League.
"You think about where this started, with Red Coaters, [Chiefs Founder] Lamar [Hunt] and his family selling newspapers on the corner to try to get people excited about the Kansas City Chiefs, to the way this community has put their arms around not only this charity, but this franchise," said Tyler Epp, Chiefs Executive Vice President of Business Operations, during the check presentation. "They've turned this into something that when we go to league meetings or to other markets, we talk about this…it's [the result of] what the community does to put their arms around this."
On hand to continue that tradition on Monday were kicker Harrison Butker and defensive tackle Khalen Saunders, each of whom stuck around to interact with the kids and families staying at the Ronald McDonald House.
"It's very special. Personally, I know what it's like to experience this kind of lift to change your spirits. I grew up in a 'slum' neighborhood I guess you could say in St. Louis, and things like this would always help me feel better," Saunders said. "For me to be that person who's bringing joy and flipping that role, it's a lot of fun."
Saunders even played the piano for an audience of residents while Butker engaged in an intense game of giant Janga with one child.
The visit was an example of how the small things can go a long way for those going through the most difficult of times, and because of the generosity of Kansas City, there's plenty of more help on the way.
"I think that we sometimes hold up athletes for what they do on the field, but for us at Ronald McDonald House Charities, the Chiefs are heroes because of what they're doing off the field," Greenberg said. "It's about how they're supporting this organization, supporting families with sick kids and for all of the things happening in Kansas City."
To learn more about Ronald McDonald House Charities, click here.
Chiefs players visit staff and families at the Ronald McDonald House Charities of Kansas City. While there, they will present a check for more than $550,000 that was raised through Red Friday flag sales and the 50/50 Raffle during the Chiefs home opener against the Baltimore Ravens.