Earlier this week, Chiefs president Mark Donovan was a guest speaker for the Army Leadership Exchange Program hosted at Ft. Leavenworth by the Center for Army Leadership.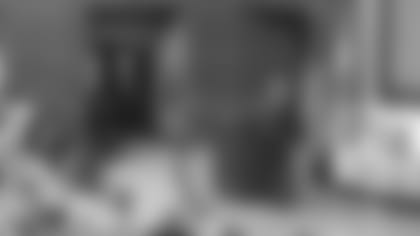 This yearly forum is a chance for the Army to showcase speakers from within the military and those from other organizations to discuss leadership skills. The overall goal of the event is to provide the leaders of the force with knowledge on how to lead various organizations and best practices to implement.
"A core responsibility of the Army is to develop the adaptive, agile, innovative leaders necessary to thrive in complex, uncertain situations," Colonel Chip Bircher explained. "The Army Leadership Exchange program developed by the Center for Army Leadership gives Army leaders the chance to learn from the best leaders in the public sector; leaders like Mark Donovan. Mark's ability to capture what he has learned from some of the greatest leaders in the National Football League and then share them with us was absolutely amazing and left everyone wanting to hear more."
Donovan was joined by three other panelists, including Dr. Neeli Bendapudi, dean of Kansas University's Business School, Major General Jimmie O. Keenan and Mr. Matt Whiat with Truly Human Leadership.
"It's always an honor to support our military, but to be able to interact with the leaders and future commanders of our armed forces is something special," Donovan said. "Plus, the fact that Ft. Leavenworth is in the Chiefs Kingdom makes it that much better."
As much as they may have learned from Donovan and the other speakers, he too was able to learn from them.
"Two things hit me while I was there; one was the level of interaction," Donovan noted. "These men and women are there to learn and gather anything they can from each of the speakers. The questions were relevant and there was a high level of energy. Second, is I always learn something spending time with the staff at Ft. Leavenworth. This opportunity and a brief discussion with General Brown led to a realization of how their approach in identifying leaders could be used by our organization."
Donovan noted he was impressed with the group and thankful for the opportunity to share his insights and lessons he's learned as a leader from some of the best in the NFL.
"The biggest takeaway for me from Mark's comments was the lessons he learned from working with leaders like commissioners Tagliabue and Goodell," Colonel Bircher said. "He explained that these two leaders have different styles and different approaches, but the common thread is they are never satisfied. They always strive for just a little more and find the way to inspire their teams to reach and achieve these goals."
The discussion was recorded and will be available on Defense Connect Online for the entire Army to view in a few weeks.