The Kansas City Chiefs are just over one month away from reporting to training camp in St. Joseph, Missouri, including the team's QBs and rookies, who are slated to arrive on Monday, July 22. From there, the team continues on its 2013 journey that began in January with the hiring of Chiefs head coach Andy Reid, general manager John Dorsey and the entire coaching staff, including Chiefs quarterbacks coach Matt Nagy.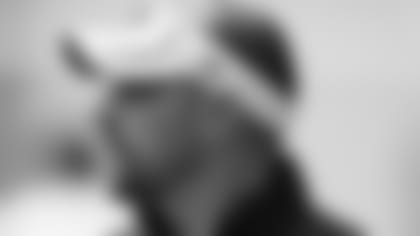 I sat down with coach Nagy to discuss the busy offseason that was, the progress of Chiefs QB Alex Smith and more.
Q: Has time flown by for you, since being hired in January?
Nagy: "It has, fast, really fast. It seems like forever ago that we were here, but that's a good thing. I was talking to Alex (Smith) about how comfortable he feels now versus day one, when he first got here and he shook his head and just couldn't believe it. We've come a long way. We've thrown a lot to these guys as a whole, but they are taking it all in and have great attitudes through it all and it's going to be something special, hopefully."
Q: How happy are you with Alex Smith's progress, since he arrived in March?
Nagy: "Really pleased, he's super intelligent. He has a very high-football IQ. He understands the game. He understands protection, all facets of the game, he gets. If you have that, for all of us who have played most of our life, the physical side of the game comes pretty easily. It's understanding the X's and O's and knowing where to be at the right time; when you combine those two ingredients together, good things normally happen and then you take the intangibles of the leadership and working hard and positive attitudes and he has all of those, so, now we just have to take it out to the field on Sundays and get the wins."
Q: What was your message to the QBs as OTAs and minicamps were ending?
Nagy: "They've gotten a lot. They knew once camp ended, they can take all we have given them, they can digest it, so that when training camp rolls around, we can go 100 mph. At the start, we weren't going 100 mph, because not everybody knew what they were doing. Now, they can take this, put all the pieces together like a puzzle, and when July rolls around and we come together, hopefully it can be a lot easier for them."
Q: What excites you most about the upcoming 2013 season?
Nagy: "I really feel that as long as you, as a QB, trust your progressions and understand what everyone's roles are, it really puts you in a good position. We really stress completions and progressions, understanding your footwork, understanding the timing of routes, wide receivers knowing their roles, the releases that they need, backs knowing their protection checks, tight ends knowing their progression checks, there is a lot going on. At the QB position, we have the ball 99% of the time, so, we need to make sure our decision making is key in where we put the football, when told to make a throw or told to make a specific read. So, there is a lot involved in it, but as long as each of those positions, I just mentioned, put it all together, you normally have pretty good success."
Q: What's the thought process like for the players, during their time off?
Nagy: "They know they have a long season ahead of them, so, they typically get away. They put their training in, they put their conditioning in, keep their head in their play books and we take a breather from each other and come back in July and are ready to rock and roll."
Q: What does vacation look like for you?
Nagy: "It's a stay vacation; we moved to Kansas City and we are staying in Kansas City."