During a day that included Chiefs head coach Andy Reid speaking at the AFC coaches breakfast, as well as the club signing new DT Cory Grissom, Chiefs CB Chris Owens met with reporters, via conference call, to discuss what led him to joining the team in 2014 and much more.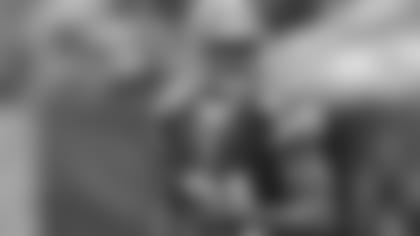 Q: What interested you about Kansas City?
OWENS: "I felt comfortable there. I took a visit there and I felt comfortable. I know "E.T", Coach Emmitt Thomas, from when he coached me at Atlanta. It was pretty much a no-brainer after that."
Q: Was there much interest from other teams out there in free agency?
OWENS: "Well, I took a trip to Pittsburgh and Tampa, before going to Kansas City, but like I said, I'm just happy to be a member of the Chiefs now and the roller coaster is all over with."
Q: Where do you feel like you fit in here?
OWENS: "I don't know yet. It's only March now, so roles haven't been defined yet. I'm sure Coach Andy Reid and Coach Bob Sutton are going to figure that out. They still have the draft, so it's early, right now. I just don't know yet."
Q: Did you primarily operate as a nickel cornerback last year? And what are some of the things they asked you to do?
OWENS: "Yeah, last year, under Coach Ray Horton, he had a different type of a package. He had a couple of versatile packages for myself and other players. I'm comfortable in the slot and I'm comfortable outside, so I'm just going to go in and do whatever I'm asked to do to the best of my abilities."
Q: As far as the sacks last season, did they use you as a blitzer or were you opportunistic?
OWENS: "Coach Ray Horton dialed my number up a couple of times. You know, I have to give credit to those guys up-front, the o-line and running backs. I guess it was a distraction for me to come in and get a sack. I guess it was an opportunity and I made the best of it."
Q: Did they ask you to do any press-man coverage at Cleveland?
OWENS: "Yeah, we played press, we played off and so, it's a familiar (area) for me, too."
Q: Do you prefer to play outside or inside?
OWENS: "I have no preference. At this point in my career, I've played inside and I've played outside; there is no preference necessarily. I just want to come in and do my job and help the defense when I'm asked (so we can) win ball games. That's what I did last year, as well as previous years in Atlanta."
Q: What are things you remember about playing at Arrowhead as a competitor?
OWENS: "Man, those fans get loud. I'm happy I'm on the other side of that intensity from the fans. When you're a visiting team coming in there, you can't hear much. It's going to be fun and it's going to be exciting. I can't wait to play in that stadium as a member of the Chiefs. I've played there twice in two different uniforms, and now as a member of the Chiefs, I'll be happier to have them on my side, finally."