For the first time in his career, Kansas City Chiefs quarterback Alex Smith has thrown for at least 3,000 yards in back-to-back seasons.
Smith threw for 3,313 yards last season after completing 60.6 percent of his passes with 23 touchdowns and seven interceptions. He also helped orchestrate the best single-season turnaround in franchise history, helping the Chiefs with a nine-win improvement between 2012 and 2013.  
"We've been through some things [over the past couple of years]," Smith said of his relationship with Chiefs coach Andy Reid. "He's a guy that's been around a lot of different quarterbacks. He has such a wealth of knowledge about football and I continue to learn through it all."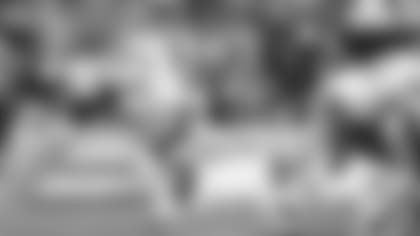 This year, Smith has completed 65.3 percent of his passes with 3,265 yards with 18 touchdowns and just six interceptions.
Trading for Smith was one of the first things Chiefs general manager John Dorsey and coach Andy Reid did when they arrived in Kansas City, and while the quarterback, the most oft-criticized position in professional sports, will always get the majority of the blame, Reid's postgame comments on Sunday told the story.
"He's a warrior," Reid said of Smith, who has been sacked a career-high 45 times this season. "He hung in there. He continued to try to make plays back there and I wouldn't expect anything less.
"That's how he rolls and that's why he's the leader of the football team."
Despite the number of hours these two have spent together over the past couple of years, Smith explained that there's still a lot he and Reid can learn from one another.
"You still learn things with each other," Smith said. "I think he's the same way. [Reid] is learning about me and how I operate and think. I think the more as a quarterback, you know what the play caller's calling and why he's calling it, the better you can operate, the better decisions you're going to make and the more you're on the same page.
"I think that's only a good thing and a lot of that does come with time and just learning through things."
Kansas City Chiefs vs the Pittsburgh Steelers on December 21, 2014