As a high school senior in Whitehouse, Texas, in 2014, Kansas City Chiefs quarterback Patrick Mahomes II made a decision that altered not only his own life, but also the current and future state of the Chiefs' franchise as well.
Mahomes, a standout baseball player who once struck out 16 players in a game and possessed a 95-mile-per-hour fastball, was looking at the opportunity to play professional baseball and a signing bonus in excess of a million dollars if he wanted to follow the path of his father.
The elder Mahomes played 11 years in the big leagues (1992-2003) as a relief pitcher—throwing more than 700 innings in his career.
"When he started preparing for the baseball draft his senior year, his conversations started to kind of change a little bit," Mahomes' father recalled.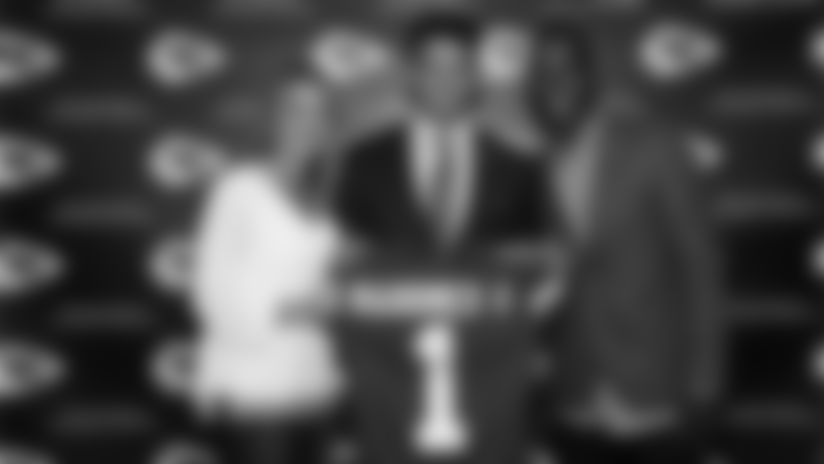 Mahomes had fallen in love with football—a sport he hadn't even played for two full years but one that would steer him away from signing a professional baseball contract that would have put more than a million dollars in his bank account before his 19th birthday.
At that point, the decision was made to let teams know that Mahomes wouldn't sign a professional baseball contract, but attend Texas Tech University and play both baseball and football.
He would attempt to take both loves to the next level.
During his freshman football season at Tech, Mahomes started four games and was looking at a competition to be the starting quarterback as a sophomore.
Right then, Mahomes was ready to commit fulltime to football and not even play baseball later that spring, but his parents made him honor his commitment.
"I was like, 'You've committed and I don't raise a quitter,'" his mother, Randi, explained. "I told him for one year you have to do both because so many kids would love to have this opportunity."
Mahomes played baseball for Tech that spring—the sport that his father had made a profession for much of his life, but that was it—Mahomes would commit fully to football that next fall.
"He wanted to get more into the film and stuff like that," his father explained. "I was fine with it. It didn't hurt me one way or the other for the simple fact that I knew that if he ever wanted to go back and play baseball, like if the football hadn't of worked out at Tech, it's not hard for him to re-learn something he's done all his life."
After betting on himself as a high school senior—foregoing a professional baseball career that would have made him a millionaire while other kids were looking for part-time, minimum-wage jobs, Mahomes would bet on himself again.
Through it all, Mahomes said he never felt pressure from his father to follow his path.
"Not at all," he explained. "My dad was always just looking out for my future. He knew once I made the decision to commit to football what it meant to me—that I loved this game, and I always had his full support."
Going into the latter part of his sophomore season, Mahomes' father, who never missed one of his sons' games at Tech, said he began to see the development on the field.
All the work and time he was putting in was paying off.
Mahomes threw for more than 4,600 yards as a sophomore with 36 touchdowns and 15 interceptions.
"I could see he was understanding the game more," the elder Mahomes explained. "In the first year and half of his second year, you could see him out there just making plays, running around and everything, but when he started doing the simple stuff—checking down and throwing the ball away and stuff like that—he just took off.
"I just knew at that point he had a chance to be here one day."
Two years later and just five years into his football career, Mahomes found himself on the other end of a phone call from a Chiefs franchise that hadn't selected a quarterback in the first round in 34 years.
Coming off a season in which Mahomes led the nation with more than 5,000 yards passing, 41 touchdowns and just 10 interceptions, the Chiefs moved up 17 spots in the first round to take the Texas gunslinger with the No. 10 overall pick in the 2017 NFL Draft.
"It's awesome," his father explained. "He took a big gamble, man. That's the thing I'm most proud of because when he turned down that contract in baseball and gambled on a game that he had just been playing for a year and three quarters at that time, I thought that was a big risk and to see him gamble on himself and to work out?
"I'm just so happy for him."
His father, who spent time as an opposing player across the parking lot from Arrowhead Stadium at Kauffman Stadium during his baseball career, couldn't be happier for where his son ultimately landed. "I always thought this was the best scenario for him," he explained. "We were hoping Kansas City. It's a good fit for him and playing for coach [Andy] Reid, you can't ask for much more."