The reserved, quiet-natured running back looks anything but when he's on the field, bulldozing and fighting his way through each tackle attempt.
When Kansas City Chiefs running back Spencer Ware carries the ball, the defender is often the one absorbing the contact.
"It all started my first year ever playing football," Ware said a few weeks ago during a sideline interview for the preseason television broadcast. "I was too scared of getting hit, so it was the fight-or-flight instinct that kind of took over—hit him before he hits me. When I figured out what I can do, it was always my mentality.
"Then as I got older, I just saw how it changes the momentum of games and ultimately changed the outcome."
Ware was almost prophetic in the way he talked about where his inherent motivation to run the way he does comes from because it's exactly how it played out on Sunday.
He finished the game with 11 carries for 70 yards and a touchdown, and he added 7 receptions for 129 yards through the air as well, both of which led the team, but it's the way in which he did it that became the catalyst for the team on Sunday.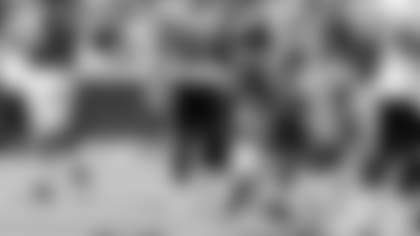 Ware broke multiple tackles on multiple plays and got the crowd on their feet and his teammates engaged into his performance with the effort he displayed.
"[Ware] brings a lot of energy, and he's an emotional player," head coach Andy Reid said after the game. "He has a knack for making plays when you need them."
"Seeing [Ware] just getting in to guys—even when he gets tackled, he takes it to them," right tackle Mitch Schwartz explained. "They're not going to come in as hard the next time if he's delivering a hit like that, so it gets us fired up, and it kind of gets everyone fired up, and then we just feed off of each other."
On Sunday against the Chargers, Ware gained 141 of his 199 total yards in the second half and overtime, stepping up for his team when they needed him the most.
"The guy is such a spark for us," quarterback Alex Smith added of Ware. "The energy that he brings– the way he runs – the guy does it all, even on the sidelines, incredibly positive, always going and wanting to be involved and seeing what he can do.
"I think certainly today, he lit a fire under us – got us going."
For tight end Travis Kelce, the way Ware performed on Sunday wasn't a surprise.
"We knew [Ware] was going to be that guy last year," Kelce explained. "He's an unbelievable competitor and every single day you know what you're going to get out of him, and that's 100 percent effort, 100 percent physicality, and you know what, a guy that's going to do his job to the team.
"As a football player, that's all you can ask of your teammates—to go out there and give it all for you, and that's what [Ware] does every day."
The spark didn't just happen for the offense, it spread to the defense as well.
"It definitely gets us going to see that guy, as physical as he is just breaking tackles," defensive lineman Jaye Howard explained of Ware. "It showed today. On the sideline, he was like, 'I got it for y'all, I got it for y'all. Just get the ball back for me.'
"To hear that coming from a running back—that makes you want to go out there and get the ball back to him, definitely."
Ware helped lead the Chiefs to the greatest second-half comeback in franchise history, trailing by 21 points midway through the third quarter.
"It's not over until triple zero," Ware said after the game. "It's never over. You just have to keep fighting. That's what we do. We were down, no energy, no big plays, but we just believed in ourselves, believed in the system and believed in our coaches."
On what ultimately became the final drive of the game for the Chiefs in overtime, Ware's number was called on the first two plays of the drive—resulting in gains of 20 and 13 yards, respectively.
When the pressure was at its highest on Sunday, Ware came through for his team.