There is nothing stronger than the heart of a volunteer.
-- Gen. James H. Doolittle
Recognizing America's Volunteer Uniformed Service Members at home and abroad is a Chiefs tradition. That tradition continues this season through the "Tribute to the Troops" program at GEHA Field at Arrowhead Stadium, which recognizes military service, heroism, or courage.
On Sunday, October 16, 2022, Michigan-native, Air Force Staff Sgt. Mark Welch was recognized for his service as the "Tribute to the Troops" honoree presented by Crown Royal during the Chiefs' game against the Buffalo Bills.
Staff Sgt. Welch is a ten-year Security Forces professional with combat deployments to Afghanistan and Kuwait in 2013 and 2021 respectively, and an operational tour of duty to Turkey in 2019.
Welch is understandably proud of the work he's done during his decade-long career in Security Forces. 
"As a Security Forces Airman, I've done everything from law enforcement to safeguarding and securing some of the nation's most valuable assets," Welch said.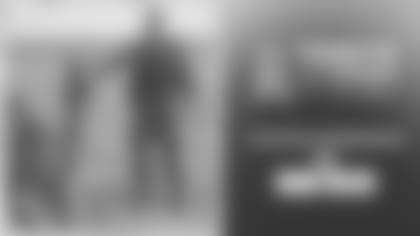 When asked about his current duties at Offutt Air Force Base, Nebraska, the humble non-commissioned officer simply said, "My job is to ensure that no one gains unauthorized access to the base while ensuring those who are authorized to be here can do so."
According to the US Air Force website on Security Forces, "Security Forces specialists go through extensive training in law enforcement and combat tactics to protect bases both stateside and overseas. A job that's both physically and mentally demanding, these highly focused experts do everything from writing tickets to investigating on-base incidents to make sure everyone and everything on every base is protected."
When asked why he joined the Air Force and what motivates him to stay in, Welch said, "Initially I came in for the great benefits associated with military service, but serving my country is the biggest bonus. It means a lot to me that I don't have to worry about how I'm going to take care of my daughter." 
Reflecting on his military career, Welch responded by saying, "Military service runs in my family. I feel honored to be able to serve like my brothers, uncles, and grandfathers."
Welch can attest that Security Forces is not easy work—but its work you can take pride in, especially if you serve with great people. 
"My squad in Turkey had a phrase: 'Get after it.' No matter what you face," Welch said. "You hit it head on, take charge and get er' done." 
Staff. Sgt. Welch intends to continue his volunteer military service at least another ten years and looks forward to what his career in the Air Force brings next.