They devote their lives to protecting those that they've never met, selflessly stepping forward to defend all that we hold dear in this country.
These individuals don't join the service for recognition or fame, it's just simply what they feel called to do, forgoing personal ambition to become a part of something much larger than themselves.
They're the brave few who make up our Armed Forces, and some of our nation's very best are right here in Chiefs Kingdom.
The Chiefs have a rich history of supporting our men and women in uniform throughout the years, including through the "Tribute to the Troops" program at GEHA Field at Arrowhead Stadium, which recognizes the real heroes in our community during every home game.
That initiative took place once again earlier this season, as SSG Mario Orelus was recognized as the "Tribute to the Troops" honoree presented by Crown Royal during the Chiefs' matchup with the Los Angeles Chargers.
A native of Haiti, SSG Orelus originally moved to the United States in order to pursue a higher education. He went on to achieve that goal while attending both UMKC and Baker University, but it was his experience in nearby Joplin, Missouri back in 2011 that led to his career with the Kansas National Guard.
"I felt like there was a need for service," SSG Orelus said. "I went to Joplin after the tornado hit, and there were some National Guard members there. It got me thinking, 'Why am I not a part of this? I saw that they could use my help, and I wanted to get involved with that."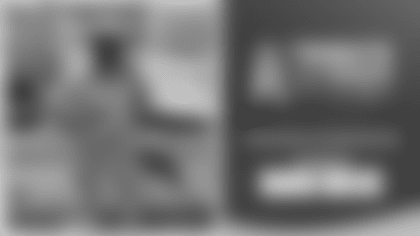 SSG Orelus joined the Kansas National Guard soon after that experience in Joplin, and more than a decade later, he remains an active protector and advocate of his adopted community.
"I feel like service is one of my gifts," SSG Orelus said. "As we all know, the number of those that serve is going down, but there's still a need. So, I felt like it was my responsibility to do my part."
One of the hallmarks of SSG Orelus' service has been his work with suicide prevention within our Armed Forces, which includes workshops and classes – led by SSG Orelus – designed to save lives.
"Right before the pandemic, they were looking for soldiers to go through suicide prevention training, so I volunteered for it," SSG Orelus explained. "It has always been something that I wanted to do. It's such a problem in our society, and people don't want to talk about it. There are so many stories, and I wanted to learn about it more. So, I went through the training, and I found that it's something that I'm passionate about."
SSG Orelus took his work a step further, too, when he developed an interest in ballroom dancing, and while the classic activity may seem unrelated to his other endeavors, it now aids his larger mission of providing companionship for those who feel alone.
"I couldn't dance, and when I can't do something, I put my mind to finding out how to do it," SSG Orelus said. "I learned, and now my wife and I have a dance studio in Olathe called New Way Dance Studio. We teach veterans, young kids and people of all ages. Out studio has become a community place that is there for anyone who needs to talk."
SSG Orelus also devotes his time to the Veterans of Foreign Wars (VFW), where he speaks with veterans and learns their stories. It's one of numerous examples of SSG Orelus' devotion to serving others, and while he is far more interested in shedding light on those in need, the crowd at GEHA Field at Arrowhead Stadium recognized SSG Orelus with some much-deserved praise last month.
"For my wife, my brother and my father-in-law, who had never been to a football game before, to be there and to experience the energy meant a lot to me," SSG Orelus said. "It was a special day."