They devote their lives to protecting those that they've never met, selflessly stepping forward to defend all that we hold dear in this country.
These individuals don't join the service for recognition or fame, it's just simply what they feel called to do, forgoing personal ambition in the private sector to become a part of something much larger than themselves.
They're the brave few who make up our Armed Forces, and some of the nation's very best are stationed right here in Chiefs Kingdom.
The Chiefs have a rich history of supporting our men and women in uniform throughout the years, and while the traditional "Salute to Service" programming can't take place at Arrowhead Stadium this year due to the COVID-19 pandemic, the organization is still doing its part to recognize the real heroes in our community.
That continues this week, as Staff Sgt. Dan Medina will be recognized as the Chiefs' "Salute to Service" honoree presented by Crown Royal during the AFC Championship Game on Sunday.
A native of nearby Gardner, Kan., Staff Sgt. Medina has deployed all over the world during his decade of service with the U.S. Army Reserve, but his career in the military had humble beginnings.
"I didn't really have a plan for what was next at that point, and it was an opportunity to serve my country, so I decided to join the military to see what I wanted to do with my life," Staff Sgt. Medina said. "The military gave me the opportunity to figure that out."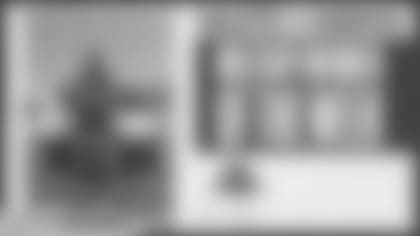 That was way back in 2011, but despite having a family and securing a civilian job in the time since, Staff Sgt. Medina remains an active member of our military a decade later.
"For me, it's the challenges that the military gives you," Staff Sgt. Medina explained. "The military challenges you every day on the job. It's not cookie cutter – you're not getting the same thing every day. So, I still get to provide for my family, and I get challenged every day."
That dedication included an 11-month deployment this past year to the Middle East. In fact, Staff Sgt. Medina just recently returned home last month, but no matter where he was, Staff Sgt. Medina – an avid Chiefs' fan and Season Ticket Member – found a way to follow his childhood football team.
"When the games were on, no matter what country I was in – Jordan, Lebanon, Yemen or Iraq – I made sure that I was watching," Staff Sgt. Medina said. "It could have been airing at midnight or three in the morning - I was dedicated to watching my Chiefs. It was difficult at times because I was in some remote areas, but I stayed on top of it."
And now back stateside, not only will Staff Sgt. Medina be honored in-person at Arrowhead Stadium on Sunday, but he'll also beat the drum as the Third Quarter Tony DiPardo Spirit Leader.
It's an opportunity that's not lost on Staff Sgt. Medina.
"It means a lot. To be able to beat that drum that I've seen since I was a kid – knowing the tradition and the meaning behind that – it's special," Staff Sgt. Medina said. "I'll be there in the flesh watching our guys potentially bring another AFC title home. I'm ecstatic. The hair on the back of my neck is standing up just thinking about it."