"I love the Chiefs; I'll be a Chiefs fan for the rest of my life," Coy Pope noted, a 9-year-old Chiefs fan living in Yukon, Oklahoma.
Coy has been trying to convince his older brother, Cade, to be a Chiefs fan and join the Chiefs Kingdom. Cade, 12 years old, is still on the fence and decided to write a letter to all 32 NFL teams requesting the reason why he should be a fan of their team.
"I didn't have a team to cheer for yet," Cade said. "In the letter I explained how I wanted to be a fan of an NFL team; I wanted to make an NFL team 'my team.'"
The Carolina Panthers were the first to step up and try to persuade Cade to join their fan base. The team sent him a signed Luke Kuechly helmet and a letter from the team's owner and founder Jerry Richardson.
Then this video surfaced of a local reporter noting that only the Panthers responded and then poked fun at Coy for his loyalty to the Chiefs.
Once the video was seen and the original letter was received, the organization wanted to thank this young diehard fan for standing up for his team in Oklahoma territory and being a part of the Chiefs Kingdom.
Over the weekend, I visited the Pope family in Oklahoma and, thanks to our wonderful community relations department, I brought along a bag packed full of Chiefs memorabilia.
I was able to surprise Coy at his home in Oklahoma with his favorite player's jersey, Alex Smith, along with a team signed football, a helmet signed by all of the 2014 Chiefs Pro Bowlers, Chiefs school supplies, a hat signed by Dustin Colquitt, a Chiefs Kingdom flag and much more.
"It means so much to us that the Chiefs did this," Heather Pope, mother of Cade and Coy, noted. "I can tell that they are so extremely happy that you came all this way to visit and brought so much stuff. It means a lot to us."
Plus, many of the items were doubled to gift to Cade as well, especially since he is still deciding on which team to cheer for. However, Coy continues to push him in the right direction.
"Coy has really tried to convince me to be a Chiefs fan," Cade said. "He keeps saying, 'there's no other team like the Chiefs,' 'the Chiefs are the best,' and 'you really need to be a Chiefs fan.' He told me about their fans being the loudest in the NFL and how they broke the record against the Patriots during Monday Night Football."
Cade is still debating about where his loyalty will lie, but for now, it seems as though he is on his way to becoming a Chiefs fan. He and his younger brother were ecstatic to receive their Chiefs jerseys and other memorabilia.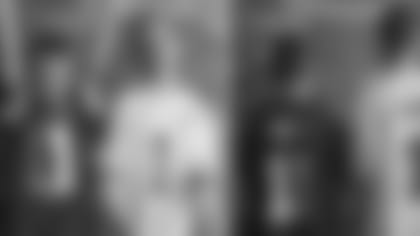 Coy was on cloud nine; he was extremely excited about all his new Chiefs gear and said he couldn't wait to show all of his friends.
Thank you Coy for being a part of the Chiefs Kingdom and Cade, the best fan base in the NFL will be waiting for you with open arms.