The Kansas City Chiefs concluded their final rookie minicamp practice on Monday afternoon.
Here's what you need to know: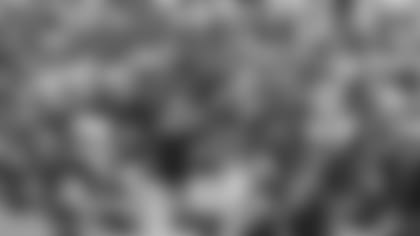 On the nicest day they've had throughout the three-day minicamp, the Chiefs concluded this year's rookie minicamp on a perfect Monday afternoon
The same 68 players that practiced Sunday were back at it on Monday
Chiefs coach Andy Reid said afterwards that while they may be sore, the Chiefs got through camp healthy
Monday's scheduled practice lasted just under two hours, which was significantly shorter than the first two days
Both coach Reid and general manager John Dorsey addressed the group after practice
Of the 68 players who participated this weekend, only 22 are currently under contract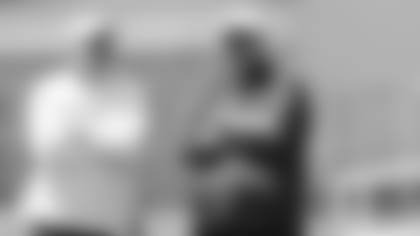 Chiefs coach Andy Reid: "I liked what I saw. We looked a little bit bigger and faster and they picked it up well."
"The guys worked hard. I've got to give them credit for the effort that they put out here and they did stay healthy. I'm sure they're sore, but they stayed healthy and worked hard and my hat's off to them."
Reid on Ramik Wilson: "He's got strong hands and he's got a knack for making plays here. He's done a nice job, a very nice job."
Marcus Peters on picking up the defense: "I feel like it is coming to me naturally, so that's a good thing."
Steve Nelson on the rookie minicamp: "It felt real comfortable. It was everything I expected – come in here and try to get the playbook down and just have fun with it."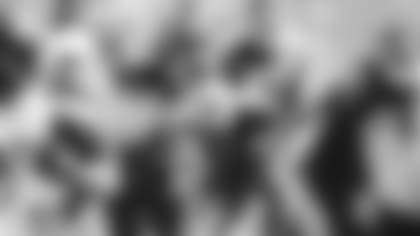 The Chiefs' fourth-round pick, linebacker Ramik Wilson, out of Georgia made a couple of nice interceptions during team period on Monday—with one coming in red zone work.
On the other pick, Wilson showed some nice athleticism by turning his body back the opposite direction he was headed to adjust to the ball, picking it off on a pass attempted across the middle.
First-round pick Marcus Peters made a nice interception after staying with third-round pick receiver Chris Conley on a double-move in red zone work.
Receiver Kenny Cook made a few nice touchdown catches in teamwork, plus one nice display of athleticism as he used his 6-foot-4 frame and 81-inch wingspan to pluck a ball out of the air on a pass defended by Peters.
Here are a few vines of some Chiefs rookies working out on Monday afternoon:
Rookie Spotlight – Linebacker D.J. Alexander
The Chiefs selected Oregon State linebacker D.J. Alexander in the fifth round of the draft.
But to those back at Palm Desert High School in California, where Alexander went to school and graduated from, the speedy linebacker went by a different name, D.J. Welch.
It wasn't until a game in 2012 against BYU, when Alexander, who had just earned the starting spot that year for the Oregon State defense, wanted to honor his stepfather and change his surname from Welch to Alexander.
"I always told my stepdad—that's his last name and he's raised me since I was about one year old. I always told him 'Once I make it big, then I want to change my name to recognize him for all that he's done for me and my family,'" Alexander explained on Monday. "Once I had that foot in the door and I was someone at Oregon State, I felt that was the perfect time to recognize him and acknowledge him for all that he's done."
Alexander said that everyone in his family knew what he had in store for his stepdad during that game in Provo, Utah so many years ago—everyone, that is, except his stepdad, who was curious why they were making the trip up from California.
It was the first game that "Alexander" would be printed on the back on his jersey.
"When I came out of the locker room and had that on my jersey, he was just shocked."
The gesture obviously meant something to his stepfather.
"It meant a lot to him," Alexander said. "My mom said he was crying in the stands. I don't know because I've never seen him cry, so I don't know if I believe that or not, but I know he was proud.
"Still to this day, actually today is his birthday; I have to call him. I know he's proud. He's proud of me and he just wants me to do the best I can."
After three days of rookie minicamp, Alexander has been doing his best and is ready to get back to work and continue learning from veteran Derrick Johnson.
"I always think I have room to improve, so I just have to keep learning and pick [Johnson's] brain and try to be something like he is," Alexander said.
Because he has already graduated, Alexander is able to participate in all of the Chiefs' offseason workouts. His teammate at Oregon State and the Chiefs' third-round pick, Steve Nelson, as well as first-round pick Marcus Peters, aren't able to join the team until the mandatory minicamp June 16-18.
"My linebackers coach at Oregon State, coach (Trent) Bray, he always said 'Make sure you graduate before spring if you can, so that you can go to all the OTAs and you can be a part of it, so if you could get picked up, you have that extra time to learn the schemes and stuff like that.' Once he became my coach and said that, I just stuck with it and made sure I did all I had to do to graduate early."
---
HC ANDY REID'S PRESS CONFERENCE
OPENING STATEMENT:"Alright, so it's been a good couple days that we've had a chance to spend with the rookies and some of the other guys that have been with other teams and had a chance to go through this because of their non-accrued seasons. I liked what I saw. We looked a little bit bigger and faster and they picked it up well, so we'll see how everything goes. John (Dorsey) will meet with the players, which he just did here after the picture there, and he is going to keep certain guys and let certain guys go. The time is yours."
Q: What is next for the guys that are currently under contract? Do they immediately begin phase two of the offseason program?
REID:"Yeah, right back tomorrow. They'll start right back up tomorrow. No rest. We just get them right back at it."
Q: And that is everyone except Marcus Peters and Steven Nelson?
REID:"Right, they'll go back to school and do what they're doing until their graduation date, which takes them to the mandatory minicamp."
Q: So you won't see them for all of the OTA's?
REID:"Won't see them through all of the OTA's."
Q: After your experience with De'Anthony Thomas and some instances in Philadelphia, do you see that as any kind of a step back?
REID:"Well, you wish they were here just for the reps, but can it be done when they're not here? Yeah, it can be done. And so you've got to do some different things. You've got to communicate with them, obviously, as a coach and go through whatever you can go through with them and talk to them, make sure they stay up on that, so that's what we'll do."
Q: Since Steven Nelson is headed back to school, does D.J. Alexander have to go back to Oregon State as well?
REID: "No, he's already graduated. He's okay to stay. He was here those first few days too."
Q:What are your impressions of David Irving as a player?
REID: "I like what he's done. We knew he was a good football player. He had some issues obviously. John Dorsey and his crew, I thought, did a nice job getting in there and making sure with him that he would fit in here and that he kind of had things going in the right direction."
Q:And what about Justin Cox?
REID: "He, likewise, did a nice job for us. He too had some issues and it's important that they stay on top of that part, but also the football part. And they did well football-wise, we figured they would. They were good football players, but there is another part of that and football is not going to be there for the rest of their life. You're going to have to be able to handle things outside of this football world and handling yourself the proper way. So we've done a lot of homework on them – John and his crew had – and we felt comfortable that they were headed in the right direction."
Q:When you are looking at players with character issues, what does it take for you to decide that it is worth a shot?
REID: "Well, I think number one, you have to have a feel that they want to change. Whatever degree it is, people make mistakes and then it's important that you admit your problem and that you go fix it. And so we felt like they were headed in that direction and so we'll see. Time tells on those things and we'll see what goes on."
Q:What are your impressions on Kenny Cook throughout this camp?
REID: "Yeah, he's doing a great job. You know he had the same thing Eric Berry is fighting through and so he was able to come back. He sat out a year of football and he was able to come back and play and do a nice job here for us. He sure is a big target with a big catch radius and made some plays for us. It's a tribute to the kid for working so hard, his docs that helped him out, and here he is."
Q:It looks like Ramik Wilson is a ball magnet out on the field.
REID: "Yeah, he's got strong hands and he's got a knack for making plays here. He's done a nice job, a very nice job."
Q:You had Marcus Peters and Chris Conley returning some kicks. Are you just looking or do you maybe have some plans there?
REID: "Yeah, they've done them when they were younger, so we thought we would give them an opportunity. Dave (Toub) has everybody back there and he tries them and even guys that haven't done it that might have some potential. And you saw that with Knile (Davis) on the kickoffs. I think it's a good thing and it looked like they handled it pretty well. We've had a couple windy days here, so the ball has been all over the place, but they've handled it."
Q:Were you able to get through this camp healthy?
REID: "I felt great, yeah! Oh, you meant the team? I tell you, we did. The guys worked hard. I've got to give them credit for the effort that they put out here and they did stay healthy. I'm sure they're sore, but they stayed healthy and worked hard and my hat's off to them."
Q:Can you go through camp the way you are at quarterback with only three healthy on the roster?
REID: "Well, until I came here, I had done that for the last few years. Nagy, that's how he kind of got started. He wanted to get into coaching, so he threw a couple drills for us. If you can find a guy like that, maybe you do that again."
Q: So how was everything? Did it go well?
PETERS:"Yeah, for sure. I got to play ball again. That's the fun part."
Q: Was the mental part overwhelming at all?
PETERS:"It's football. It's a new system. I come in and I sit down with the coaches, learn the system and move forward."
Q: Is it completely different than anything you did at Washington?
PETERS:"You know, all defensive schemes are going to be sort of the same. You've got your basic coverages that you want to run. It's just the in's and out's that are different. But I feel like it is coming to me naturally though, so that's a good thing."
Q: So what are you going to be up to in the next few weeks?
PETERS:"Training, staying in shape, getting ready to come back for camp."
Q: Are you planning on talking to the coaches every day?
PETERS:"As much as I'm allowed to. That's the thing that makes it difficult. With me being away and the coaches only having a small window of time to communicate with us. But I'll take all of the info that I have from here from this minicamp and I'll take it home with me and continue to study that to make sure that I don't have a drop-off when I come back."
Q: So you're going back to California then?
PETERS:"Yeah, I'm going back home to California and be with my family, my son."
Q: They had you returning some kicks today. Had you done much of that before?
PETERS:"Yeah, I did it pretty much all throughout my career. I just never started at it. We had pretty much some guys at Washington that we had that were some special guys back there. So our play held up. So if it's needed, I'll do it, but I'm going to be holding up some guys on that punt return though, for sure."
Q: You and Steven Nelson are in the same boat regarding your classes. How much are you going to stay in touch with him throughout that process?
PETERS:"We're going to stay in touch for sure. We kind of know each other through some mutual friends that he played with at Oregon State, so we kind of already have that relationship. It's just going to make us that much closer with us being on the same team now and being able to establish that balance of how we communicate on the field and off."
Q: Can you talk about the receivers that you faced here? Was it a good group?
PETERS:"Yeah, we had a great group. We had some excellent work out here. I felt it was a good weekend of ball, and I felt everyone got better."
Q: While you are away this month, is there anything technique-wise that you feel like you can get better at?
PETERS:"Everything. To just keep developing my game all-around. And like I said, to stay in shape."
Q: Does it help that you can dial the phone and have your dad (high school football coach) meet you at the field?"
PETERS:"Yeah, for sure. We're going to be on the board chalk-talking with him. He's going into the summer (workouts) for the high school back at home, so I go and I help the guys go into the summer. And just like I said, stay in shape and go out there and do as much as I can with the high school. My high school, for me, it's a hop over the fence really. My grandmother stays right behind my high school, so that's easy all day."
Q: So are you going to be doing your own thing the next few weeks or will they give you material to go over or an eating plan or workout regimen?
PETERS:"I think I'm going to get a workout regimen and things like that, but as far as the position-specific drills, it's just regular back-pedaling, breaking and just keeping my legs in shape."* *
Q: You're in the quarter system for school, so how are you going to stay on top of things before you come back for minicamp?
NELSON:"So, I'm actually going to go back out to Arizona where I first started training at and work out there with the guy that trains me. He's going to help me get through the playbook and keep me in top shape."
NELSON:"He's a guy named Will Sutherland. (Works with) a lot of DBs around the country."
Q: How did it feel out there, did it feel comfortable?
NELSON:"It felt real comfortable. It was everything I expected – come in here and try to get the playbook down and just have fun with it."
Q: How different is this playbook from what you had at Oregon State?
NELSON:"It's way different, our playbook is a totally different thing. The speed hasn't changed much, but the playbook and everything you've got to know, the parts that fit, it is way different."
Q: Are they asking you guys to know left, right, slot? Are you supposed to know all the cornerback positions?
NELSON:"You should know pretty much what everyone else is doing. It helps your position out, it makes you understand what's really going on. I think it's important to learn everybody's position."
Q: What have your first impressions of Defensive Coordinator Bob Sutton been?
NELSON:"I like him a lot. I like him a lot. He's a real chill guy. He gets everybody in the right position."
Players were outside on the field for day three of the Rookie Mini Camp.