The Kansas City Chiefs brought the spirit of the holidays to dozens of kids on Monday as nine of the team's rookies visited the Children's Center Campus for an afternoon of crafts and Play60 activities.
Running back Kareem Hunt, linebackers Ukeme Eligwe and Tanoh Kpassagnon, quarterback Patrick Mahomes, kicker Harrison Butker, safety Leon McQuay III, wide receiver Gehrig Dieter, tight end Anthony Firkser and defensive tackle Rickey Hatley were all a part of the visit, which has developed into a Chiefs tradition each holiday season.
"Things like this mean a lot," Hunt said. "It's just good to meet new people, give back and help out as much as possible. It means everything to me for them to enjoy themselves and for me to be a part of their lives."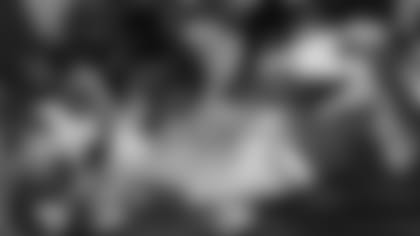 The visit was the final outing for the Chiefs' "Rookie Club" this year, which has served as a vehicle for the Chiefs' newest players to ingrain themselves in the community for each of the last 16 seasons.
This season's final stop was at the Children's Center Campus, which houses three different agencies aimed at bettering children's lives – AbilityKC, the Children's Center for the Visually Impaired (CCVI) and the YMCA.
Ability KC focuses on providing therapeutic and educational services to children with disabilities, CCVI prepares kids with visual impairment to reach their highest potential and the YMCA strives to facilitate social interaction and assimilation between children, whether or not they have a disability.
"We all work here, we share resources, we have a great playground, an incredible sensory garden and we're here in proximity to Children's Mercy Hospital," said Nicola Heskett, the Executive Director at CCVI. "It's just a wonderful location and a wonderful facility that the entire community came together 20 years ago to build."
The Chiefs' rookies had a chance to visit and interact with children from all three organizations, inducing smiles throughout the building and once again making a difference in the community they all now call home.
"We colored some boxes, we did some dancing - just having a lot of fun," Mahomes said. "It's awesome just to get out here and be in the community and to show that we care about the community as much as the community cares about us."
The Kansas City Chiefs Rookie Club visit the Children's Center Campus for their annual holiday party