The Kansas City Chiefs had the day off on Tuesday afternoon, but that didn't keep several of the Chiefs' rookie players from hitting the field and running drills.
Though this time, they invited a few friends along.
The rookies, along with the Chiefs Community Caring Team, spent the afternoon at the YMCA Challenger Sports Complex with over 70 special-needs kids for an NFL Play60 Clinic.
Quarterback Patrick Mahomes, wide receivers Jehu Chesson, Gehrig Dieter and Marcus Kemp, linebacker Ukeme Eligwe, defensive back Leon McQuay III, offensive lineman Damien Mama, defensive lineman Daniel Ross and kicker Harrison Butker led the kids in a variety of drills before sticking around for some photos and autographs.
"We basically put the kids through a couple drills," Butker said. "They had a blast. Guys were just putting their heart into it and just having a lot of fun, so it's great to be able to be here and experience them and see the joy they have in their life."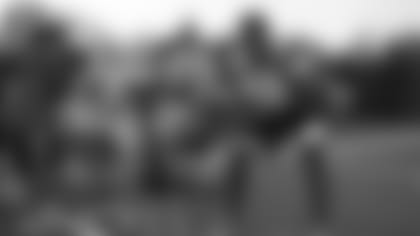 The YMCA Challenger Program strives to create a culture of healthy activity among kids and young adults that are dealing with a wide range of special needs.
"Our program is for kids who need support while they participate," said Raegan Schurr, Adaptive Program Director of the YMCA of Greater Kansas City. "They might have autism, spina bifida, palsy, Asperger's or something else and they just need support. That's why we're here."
The rookies did just that, teaching the kids how to do each drill and encouraging them to show off their touchdown dances.
"It's incredible having the Chiefs out here," Schurr said. "Our kids love to see hometown heroes, new folks and the buzz in the air with the sports that they're playing. They love to have the attention."
As special as it was for the kids, it was just as meaningful to the Chiefs' rookie class.
"It means the world to me," Mahomes said. "When my dad played baseball, I was around professional athletes and it was such an awesome experience for me, so I just want to do whatever I can to give some other kids that same experience."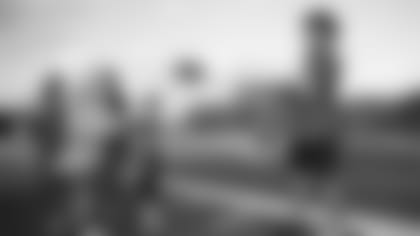 The event was a part of the NFL Play 60 campaign, which stresses the importance of staying active while kids are growing up.
"For me and my childhood, I was always out playing with my friends doing whatever I could to be outside," Mahomes said. "Just being out here and being active, that's the best way to build friendships and lifelong memories."
It was also a chance for the rookies, all of whom are new to Kansas City, to get involved in the community together.
"It's always important to show support to people that support us," Mahomes said. "Kansas City supports us every single weekend, so I always want to give back and show support in any way that I can."
That support went a long way on Tuesday.
"A lot of times you don't realize the impact you can have on others around you," Butker said. "It means a lot. It's really special to see that."
Members of the Chiefs Community Caring Team, including the Chiefs Rookie Club, Chiefs Cheerleaders and KC Wolf interacted with YMCA Challenger youth at the YMCA Challenger Sports Complex on Tuesday afternoon.