A group of first-year Chiefs, including Mitch Morse, Chris Conley and James O' Shaughnessy, met more than 300 new Chiefs season ticket members in an event at Arrowhead Stadium Tuesday evening.
Customer relations representative Xochitl Glaser, who helped organize the event, outlined the evening's purpose.
"We invited all first-year season ticket members out here to Arrowhead to learn more about their experience and what to expect on game day," she said. "We wanted our first-year season ticket members to feel welcome and definitely a part of the Chiefs family because without them, we wouldn't be anything."
At the event, fans were able to meet Chiefs cheerleaders, take tours of the locker room and even had a chance to get an autograph from both former Chiefs and nearly every current rookie on the active roster.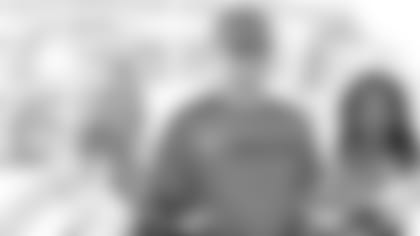 Chris Coffey, a new Chiefs season ticket member who just moved to Kansas City from St. Louis, brought his entire family of five.
"It's actually been very nice to see just the welcoming from the players, the rookies, the long-timers, the cheerleaders and the fans," he said. "It's a great kick-start to the season."
O'Shaughnessy, who currently is in the midst of the first OTAs of his career, said he really enjoyed taking the time to meet the fans.
"I've been very impressed," he said. "They are very in tune with what's going on with the program, with the organization and they're very enthused for every year of Kansas City football, so I've been extremely impressed with how into it they are."
Conley took full advantage of his first opportunity to get to know some of the people that will be cheering the Chiefs on this fall.
"It was a really good experience today," Conley said. "The fans are jacked, they're excited and they honestly can't wait for us to start playing.
"It puts a little bit of a challenge to us because right now, we're preparing. While they're waiting, we're working, so it encourages us to work as hard as we can and be prepared for when the ball's kicked."
Chiefs rookie season ticket members were invited to Arrowhead Stadium to experience some of the perks to being a member of the Chiefs Kingdom.