They came from seemingly every walk of life – the lifelong fans to those entering Arrowhead Stadium for the first time – all bound by a genuine passion for the Kansas City Chiefs.
These individuals – nearly 1,000 in number – were the Chiefs' new Season Ticket Members, and they were all in store for an evening they wouldn't soon forget.
It was all part of the annual Rookie Season Ticket Member Event at Arrowhead on Tuesday, where these fans – clad in their game-day attire – had the opportunity to hear from General Manager Brett Veach, meet the Chiefs' rookie class and learn more about the benefits of their membership.
It was a grand way of welcoming each and every new Season Ticket Member to the family, and there was no shortage of excitement.
"Look at last year, we almost went to the Super Bowl," said STM Brad Beck. "We're going to go this year and we're going to bring home that trophy."
"I just finally made it back to Kansas City – I'm originally from here – and I've been rooting for the Chiefs my whole life," added Andrew Lee, another new STM. "We decided to get season tickets now that we're back, and events like this go a long way for us."
One of the night's many highlights was the presence of the Chiefs' rookie class – from second-round pick Mecole Hardman to a slew of undrafted free agents – who all stuck around to sign autographs and take pictures with their newest fans.
"It's been crazy – I didn't expect this," said rookie offensive tackle Nick Allegretti. "There were a lot more people than I thought, so it's been a really good time."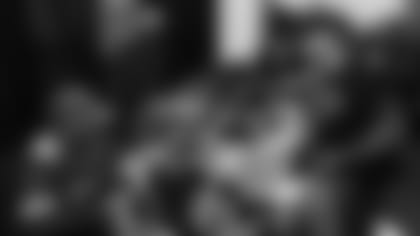 Of course, the rookies' participation in the event was all by design.
"We're all newbies – they're new on the team and we're new Season Ticket Members," said new STM Jamie Winstead. "They've all been so nice and friendly, so this has been a great start."
And as it turns out, that same feeling was just as prevalent on the other side of the table.
"This has been incredible," said rookie John Lovett. "These fans have been so awesome. It's just a great welcome to being here in Kansas City."
The event was just another one of the countless benefits of being a STM, from exclusive gatherings and unique opportunities unavailable to the general public to reduced per-game ticket pricing and merchandise discounts.
It's simply a way to take rooting for the Chiefs to the next level.
"I've been coming to Chiefs' game since the mid-90s," added Angel Harkins, another new STM. "This year was just the year to dive in." 
To learn more about the benefits of being a Season Ticket Member, click here.