Sometimes all it takes is a hug or a laugh to make someone's day, especially when they're battling cancer.
The Kansas City Chiefs' running backs did just that on Tuesday, bringing smiles to dozens of women's faces as the position group helped host a "Look Good, Feel Better" session at Arrowhead Stadium as part of this week's "Crucial Catch" initiative.
"We're with a bunch of amazing women out here that have been battling cancer," said tailback Charcandrick West. "We all know what cancer is and that situation, but to come out here and see the smiles on their faces and the amazing women that they are, it's truly a blessing."
It was the fourth year that the Chiefs have hosted a "Look Good, Feel Better" session, which teaches beauty techniques to cancer patients to help them manage the appearance-related side effects of cancer treatment.
The event, held in partnership with The University of Kansas Health System and the American Cancer Society, largely welcomed patients from The University of Kansas Cancer Center's Cancer Care Pavilion and surrounding Community Cancer locations.
"The idea is to bring women who are going through treatment together," said Kelsey Larson, a breast cancer surgeon at the KU Cancer Center. "They can talk to each other and meet each other, but also get tips on things that are really important outside their cancer treatment such as hair, make up, how to deal with the hair loss, the skin changes and appearance changes that are happening as a result to their cancer treatment."
Before the festivities got underway, the running backs – Kareem Hunt, Charcandrick West, Spencer Ware, Akeem Hunt and George Atkinson - took the time to meet, hug and take photos with all of the women in attendance.
"I think the biggest thing is you just see how the patients' faces light up," Larson said. "It's a time where they can come outside their cancer treatment and have something in their life to look forward to and to be about excited about."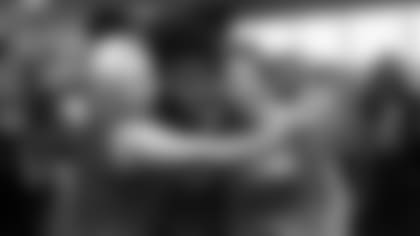 West even participated in the program, answering a series of questions in front of the group to demonstrate the NFL's newest digital tool, The Defender, which helps individuals to determine their own personal risk factors when it comes to cancer.
"The technology these days is amazing," West said. "We've lost multiple people to cancer, so any way we can keep preventing ways to stop it, it's a blessing."
The event was particularly meaningful for Atkinson, a member of the Chiefs' practice squad, whose older sister is a cancer survivor.
"My older sister beat thyroid cancer, so my family knows how important it is to have a support system in place to help with any changes that come with this terrible disease," Atkinson said. "To be a part of the Chiefs and to see what we do as an organization with the community and with cancer patients, it means a lot to me."
The NFL's Crucial Catch initiative, which has raised more than $18 million for the American Cancer Society since 2009, emphasizes the importance of early detection and risk reduction with the ultimate goal of defeating cancer.
The campaign is striving to create awareness for all screenable forms of the disease this season after previously just focusing on breast cancer.
The Chiefs have dedicated this Sunday's game against the Pittsburgh Steelers to the effort, and Tuesday's event served as another way to create awareness for the cause while brining joy to those going through treatment.
"They don't get enough credit for the things they have to go through and endure to beat cancer," West said. "I can take 30 minutes out of my day to come and spend some time with amazing people like that. People look at us football players as heroes, but these ladies here are the true heroes."
In honor of the NFL's Crucial Catch initiative, the Chiefs, led by the running backs, along with The University of Kansas Health System and the American Cancer Society, hosted a Look Good Feel Better clinic for local women.