By now, most of us have reveled in the benchmarks set this past season by the Kansas City Chiefs. The team's 10-game winning streak to close out the regular season was the longest of its kind in franchise history, and the turnaround secured the second playoff berth in three seasons under Chiefs head coach Andy Reid.
Individually, the team rewrote several pages of the record book as well. Quarterback Alex Smith's nearly 500 yards on the ground set a franchise mark for signal callers and often secured vital first downs that extended drives.  Wide receiver Jeremy Maclin's 87 receptions were a franchise record for his position and helped to provide the offense its stride.
Cornerback Marcus Peters burst onto the scene as a rookie and had a franchise-best 26 passes defensed in addition to 8 interceptions, while linebacker Derrick Johnson finished the year with 1,101 tackles in his illustrious 11-year career, placing him atop the franchise's ledger in that category.
"We saw a lot of success throughout 2015, both on and off the field," Chiefs President Mark Donovan said. "Away from the field, the Chiefs Community Caring Team once again had a tremendous year supporting those in the Chiefs Kingdom. We take pride in our ability to unite and inspire the people of the community where we live and work and we look forward to more outstanding service in 2016."
As Donovan alluded to, the on-the-field achievements only tell part of the tale about the Chiefs remarkable season.
In many instances, those same players that shined on the field for the Chiefs on Sunday did so throughout the Chiefs Kingdom during the week as well.
The "Charity Challenge" Comeback
If there was one Chiefs player that could be regarded as the team's heartbeat in 2015, it was safety Eric Berry.
Just as his Chiefs family came to Berry's aid after he was diagnosed with Hodgkin's lymphoma late last season, supporters worldwide rallied to assist his Walter Payton NFL Man of the Year candidacy.
Fans were invited to vote for their favorite nominee in the "Charity Challenge" associated with that accolade by using a player's unique hashtag on any social media platform. The player whose hashtag was used the most by December 31, 2015, received a $20,000 donation to their charity of choice, courtesy of Nationwide.
Jamaal Charles Speaks at the Special Olympics World Games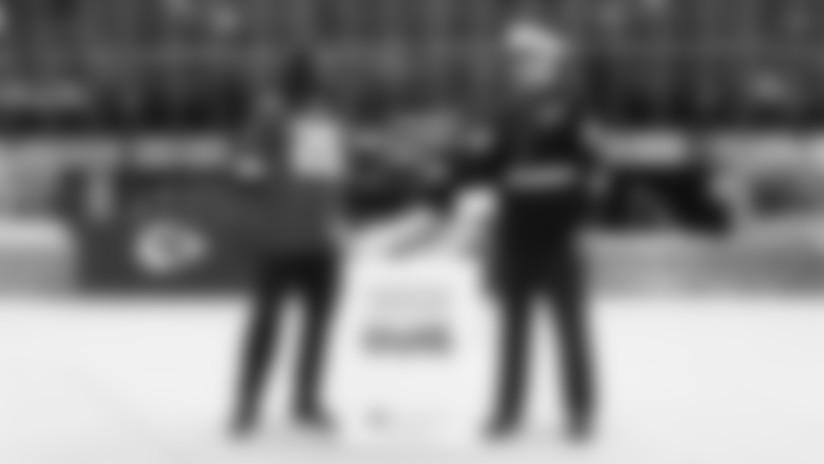 The franchise's all-time leading rusher, running back Jamaal Charles, might have been lost for the season after a knee injury in Week 5 versus Chicago, but he still had a year to remember.
Proving that a learning disability doesn't have to hamper one from reaching his or her goals, his message served to inspire those throughout the globe.
Travis Kelce Dazzles on the Field and Off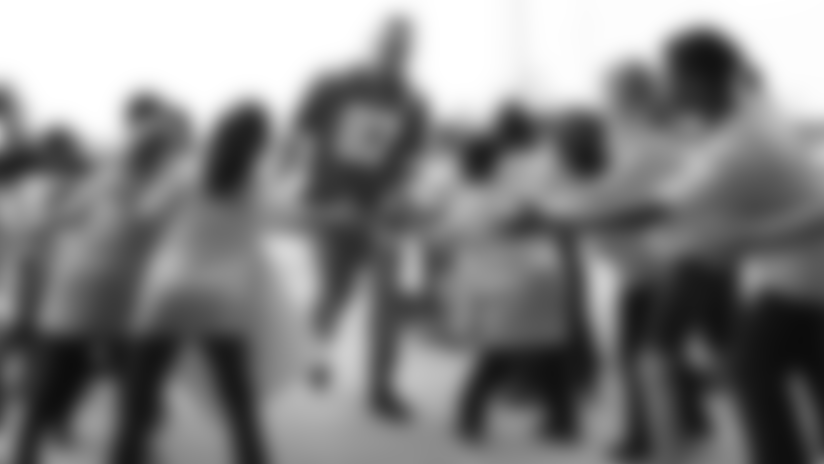 Tight end Travis Kelce and the Chiefs offense had plenty of reasons to celebrate this past season.
Still, the biggest smile brushed across his face not when he was named to his first Pro Bowl, but upon finding out that the Boys & Girls Clubs of Greater Kansas City named him as its Role Model of the Year.
This was the result of his work with that group's flag football league, which his foundation sponsored this year.
Derrick Johnson Named a "Community Champion"
Johnson, who has made a name for himself not only by devouring would-be ball carries but by also promoting literacy in the urban core to boot, is no stranger to accolades this year either.
In addition to being named to his fourth Pro Bowl this season, he was also recognized by Kansas City Public School's as its "Community Champion."
This "Champion" honor came in large part as a result of his "DJ's Discovery Dens" program. These spaces, decorated in Chiefs colors, are funded via Johnson's Defend the Dream Foundation and "transform underutilized classrooms and libraries into reading oases, including 1,200 age-appropriate children's books in each location."
The Quarterback Partners with the Cornerstones of Care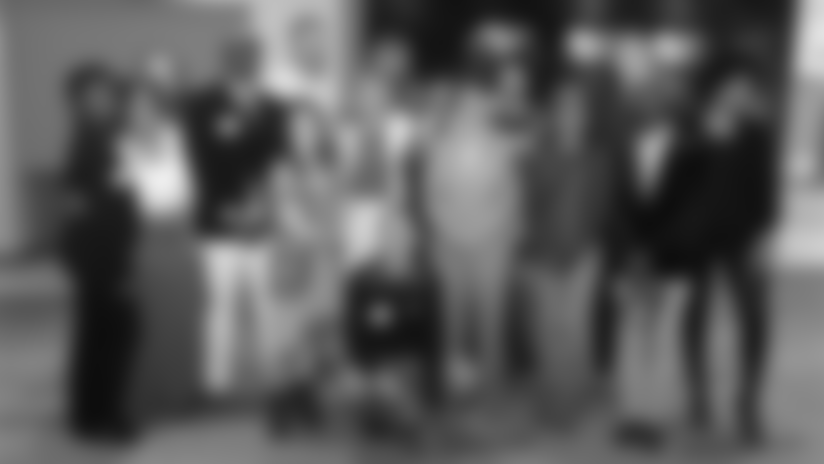 The Alex Smith Foundation set a true tone of compassion and benevolence this year.
Smith began partnering with Cornerstones of Care to support foster youth in pursuit of higher education. Expanding work his foundation initiated in his native California, this collaboration was appropriately announced by Smith inside Arrowhead Stadium during a graduation celebration for area foster children.
The Organization as a Whole Broke Some Records of Its Own
All this isn't to say that the Chiefs players were the only ones to make a mark on the field and in the community in 2015.
As an organization, this was certainly a record-setting year of outreach as well. The 205,410 meals provided to Harvesters via the annual Chiefs Kingdom Food Drive, which broke the NFL-mark set by the franchise just the previous year, was truly one for the record books. So too was this year's Red Thursday which raised more than $185,000 for Ronald McDonald House Charities of Kansas City, topping the prior mark by more than $50,000.
Meanwhile, the Hunt Family Foundation's 50-50 Raffle brought in over $191,000 for area charities, and the Kansas City Ambassadors raised nearly $100,000 for local youth support agencies via its annual golf tournament.
The manifestation of the longest active relationship between an NFL club and the Marine's Toys for Tots collection celebrated its 50th season in Kansas City as Chiefs Kingdom increased its toy donation threefold over the previous season's figure.
The Chiefs Continue In Their Play60 Efforts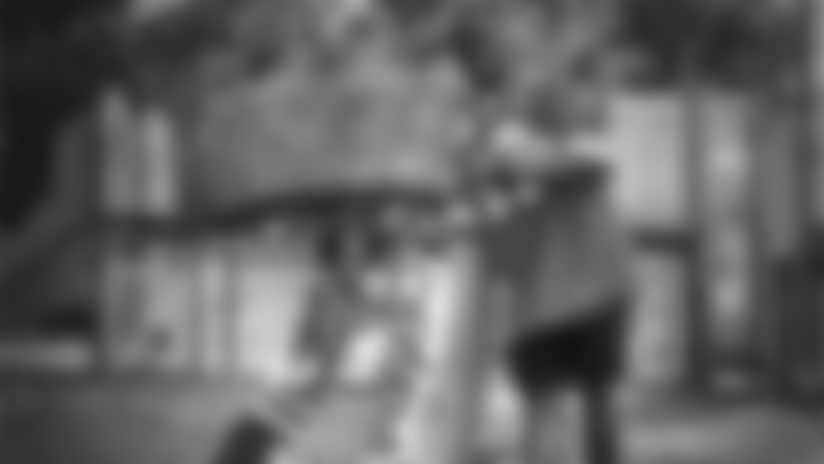 Working to help stymie the tide of childhood obesity, the entire Chiefs Community Caring Team led youth in 4.5 million minutes of activity via the Play60 platform.
Current and former Chiefs players made 619 charitable appearances this year on behalf of the organization, while the Chiefs Red Coaters amassed nearly 4,500 volunteer service hours locally. Those efforts brought more than $6 million in estimated media value to various charitable groups and organizations throughout the region.
As you can see, this past NFL season truly was one to remember in Kansas City for many, many reasons.
The foundation laid by this year's team will undoubtedly continue to propel the club in a positive direction for future seasons.
By that same token, there's just as much optimism for Chiefs Kingdom thanks to the work the entire Chiefs Community Caring Team has done and will continue to do throughout our home for years to come.
Some of the best photos from the Chiefs 2015 community Outreach visits