This week, I sat down with two of the Chiefs Chefs, Brady Lindenman and James Mehne, to find out just how much food is prepared for the players each week, as well as all the planning and preparing that goes on behind-the-scenes in the Chiefs café.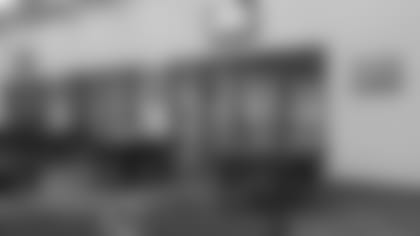 The staff prepares three meals a day, breakfast and lunch for all and dinner for the football staff. Normally, the staff arrives around 5:30a.m. Monday – Friday, to prepare for breakfast. They begin serving the first meal at 6:00a.m., typically catering to 100 people, including coaches, players and staff.
Following breakfast, the crew begins to prepare for lunch for about 300 people. There are two periods for lunch, the football staff and the business staff. There is a salad bar, an entrée, some sides and a fruit bar. For the football staff, there is an additional pasta bar, a yogurt bar and a snack area, which provides granola bars, fresh breads, peanut butter, juices and more.
"The players come in and out throughout the day, grabbing snacks from the snack area, or a smoothie, or a meal," Chef Lindenman commented. "I was surprised when I first got here, because I expected to see the guys pile up their plates, but they are pretty good about eating in moderation and come back throughout the day."
Per day, the crew prepares about 60 pounds of protein, 40 pounds of starches and 30 pounds of vegetables for the main entrees. That's 300 pounds of protein a week!
The crew works with nutritionists, creating a six-week rotating plan, in order to help coordinate with the players' workout plan.
"We have two nutritionists that we work with to completely break down the carbs, proteins, fats, and explain it to the players," Chef Mehne said. "We have a six-week rotating menu and the nutritionists work with the players to plan out their goals and their intake, either high fats or low fats, proteins, carbs or whatever works best for them."
Along with the nutritionists input, the café also started labeling foods with green, yellow or red stickers in front of the dish.
"It's an easy way for the players to quickly gauge what's healthy and what's not," Chef Lindenman noted. "Red means hold back, because it's probably not the healthiest decision. Yellow stands for 'moderate,' meaning it's okay for you, but in moderation. Anything labeled green is the healthiest item we have, so have as much as you want."
If there are any leftovers from the day, nothing goes to waste. The crew tries to utilize what they can, sometimes adding a few ingredients to create another dish. If they need to throw things out, they compost any leftovers or scraps.
The café was added about four years ago and has been an excellent addition for the football and business staff.
"Having an on-site café for players, coaches and staff is an incredible benefit for everyone in the organization," Kirsten Krug, Vice President of Administration, said. "It is an amazing space for everyone to refuel, share time with co-workers and then return to their busy careers in the NFL."
The café is a great place for employees to gather and enjoy a meal, while overlooking the indoor practice facility and Arrowhead Stadium.