With a trip to Mexico City just a week away, the Kansas City Chiefs celebrated the Hispanic community right here in Kansas City on Monday afternoon by surprising dozens of kids at Guadalupe Center Middle School with a visit.
In partnership with the Kansas City Southern Railway Company, Burns & McDonnell, and Lockton, Chiefs Ambassador Gary Spani and a pair of Chiefs Cheerleaders led the kids through a series of Play 60 activities aimed at encouraging a healthy lifestyle.
"This means the world to me," said Principal Claudia Meyer. "Every time the Chiefs come here, they celebrate our heritage and our culture. It gives our kids just a little more fire and excitement about our community."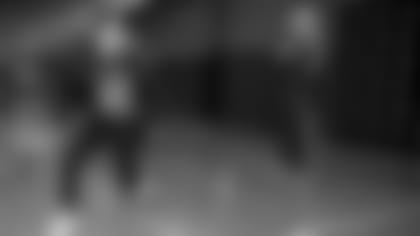 The school is part of the Guadalupe Centers network, which strives to improve the community and the quality of life for people of all ethnic backgrounds while celebrating cultural heritage.
The Chiefs assisted that mission just last month, as the Guadalupe Centers were selected by the Hunt Family Foundation and Kansas City Southern as the beneficiary for the 50/50 raffle during the Chiefs' Week 7 matchup with the Cincinnati Bengals.
Monday's visit, which fittingly took place ahead of the Chiefs' trip down to Mexico, was meant to further extend that support in partnership with some of Kansas City's top corporate institutions.
"Kansas City Southern is completely committed to our relationship with not only the Guadalupe Centers, but the entire country of Mexico," said Brian Hancock, Chief Innovation Officer at Kansas City Southern. "For us to have the opportunity to tie the Chiefs – a great partner of ours – with Guadalupe Centers to impact some kids is a perfect fit for us."
"We're excited about any way that we can get people moving and leading a healthy lifestyle," said Michael Brown, Vice President at Burns & McDonnell. "We've been a part of this community for 120 years, and we love any time that we can generate excitement for the community and the Chiefs."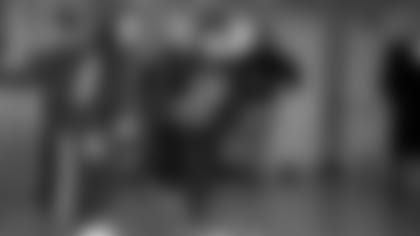 That excitement was certainly present on Monday, as the kids participated in several warmup activities, ran some routes and, of course, showed off their best touchdown dances.
"Leading a healthy lifestyle is so important at this age," Meyer said. "We try to hit on that in our health classes every semester here at school, but to hear from an organization that they love helps it stick with them."
"Eating healthy and staying active are crucial – especially in today's world, where the alternatives [are easy to come by]," Spani added. "Plus, the fact that we can throw a football around is always a great thing."
Leading into the Chiefs in Mexico Week, presented by The Kansas City Southern Railway Company, Burns & McDonnell, and Lockton, the Chiefs Community Caring Team visited Guadalupe Middle School for a Play60 clinic featuring middle school students.