The Kansas City Chiefs honored our Armed Forces in a unique way prior to the "Salute to Service" game last month, and it all came full circle on Tuesday afternoon at Arrowhead Stadium.
Soldiers from Fort Riley, as well as members of the Kansas and Missouri National Guard, were enjoying a stadium tour when Chiefs' linebacker Frank Zombo, fullback Anthony Sherman, punter Dustin Colquitt and long snapper James Winchester surprised the troops in the locker room.
"Our equipment manager, Allen Wright, came to me and asked about the idea and I said the guys were going to love it," Sherman said. "When he asked if I would come over here and present the sweatshirts, I said absolutely. There's no better way for me to show my respect for the military than to be here today."
It was a simple gesture, but one that came with immense perspective.
"The next people to wear these are heading out and defending what they love and defending us," Colquitt said. "It makes me happy that they're going to take these and cherish them. They make unbelievable sacrifices for us."
It's those sacrifices that make things like professional football a reality.
"It means everything," Sherman said. "We wouldn't be able to do what we do on Sundays if it wasn't for the people that go out there and defend our freedom and give us the opportunity to do what we want to do."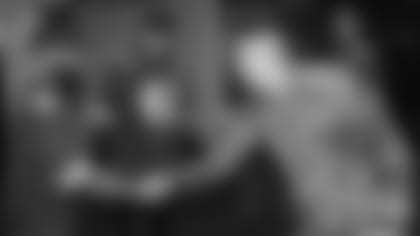 The thought of wearing specialized pregame attire was first put into action last season, when the Chiefs wore warmups featuring the names of Gold Star families and their fallen loved ones.
The idea evolved this season into honoring entire units among the different branches of the military, culminating in Tuesday's surprise.
The troops in attendance ranged from young adults preparing for basic training to individuals such as Staff Sgt. Abdiel Carambot, who reenlisted right there in the locker room for a fourth tour of duty in front of the players.
It made what was already a special moment for Carambot, a Chiefs fan, even sweeter.
"It was a great surprise," Carambot said. "I just thought it would be a tour of the stadium. We knew we were doing the reenlistment in the locker room, which is already meaningful, but then to see a few players here - that was top notch."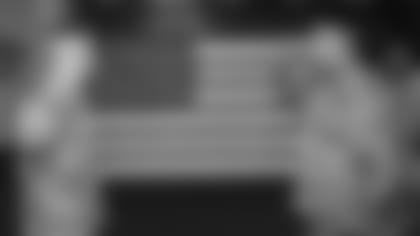 The Chiefs' tradition of honoring our Armed Forces is as ingrained in the franchise as football itself, illustrated by numerous base visits, scholarships for Gold Star families, the annual Pros vs. GI Joes event and over 50 years of supporting the Marine Corps' 'Toys for Tots' drive.
Tuesday's event was another example of that commitment, as the Chiefs had a chance to thank our men and women in uniform for what they do.
"The first thing that comes to your mind is, 'Thank you for your service,' but really, it's a sacrifice," Colquitt said. "They've made a commitment out of a love for our country, a love for our world and they want to make it a better place."
Chiefs players along with the Chiefs Community Caring Team surprised soldiers from Fort Riley with the Salute to Service hoodies worn during pregame of the Chiefs Military Appreciation Game.