Under an overcast sky on Tuesday, the Kansas City Chiefs completed their first of four OTA sessions of the week. In less than two weeks, the team will leave for its final break prior to training camp, followed by the regular season and, if all goes as planned, the playoffs.
First off the practice field Tuesday was special teams coordinator Dave Toub, who was asked which player is number one on the Chiefs depth chart for kick returns.
"There's a bunch of guys," Toub said.
"We're looking at (Knile) Davis really hard. We want to see what he looks like. He's looking pretty good. We just picked up S Quintin Demps. He's a guy the other day that we threw in there and he looked good, too. It's so early right now with the shorts on. There are a lot of guys that look good. We just have to wait and see."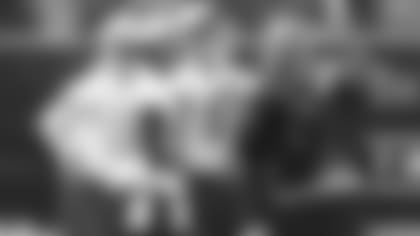 Coach Toub spoke further about evaluating players who aren't in full pads.
"The challenge is, you're not going full speed," Toub admitted.
"I talked to the guys today about that. We're hitting them hard in practice right now, but we have to hit them the same way when the pads are on; there's a lot we need to learn, once we start hitting."
Regardless of no pads, coach Toub has said his team has done everything asked of it to succeed in 2013.
"It's really been great," Toub said. "The players have been responsive; they're buying into what we're selling. They work their tails off and if we keep working like this, I think we're going to be pretty good."
Having been described by coach Toub as one player the team is looking at for kickoff returns, rookie Knile Davis was beyond pleasantly surprised.
"It feels good," Davis said. "It's good; that's what you want, to work hard and stand out as much as you can and I'm just going to keep working. I have a long year ahead of me and I'm pumped and ready to do it."
Also addressing the media after practice was Chiefs defensive coordinator Bob Sutton, who likes the effort being given by his defense.
"I've really been happy," Sutton said.
"I think all of us as a coaching staff have been pleased at how hard they've worked, both off-the-field and on-the-field. A lot of effort goes in off-the-field, not only the strength and conditioning but the mental part of learning what we want to do. One of the things we've really talked about is building the right kind of culture and that's as critical as anything we're going to do; that's an everyday thing that goes on and I think as a group, they've embraced that approach. We're not anywhere near where we need to be, but at least they understand the significance of it and I think they're trying to take ownership of it and that's the key of it, when they take ownership of it, then you really have something special."
Coach Sutton addressed the same issue as coach Toub, trying to evaluate players who are wearing helmets and shorts.
"Obviously, that's the most difficult thing," Sutton said.
"As you know, our game is based on being physically tough and having the ability to sustain effort when you're a little nicked up, so that probably makes it more challenging, but what we're learning about right now are guys that can process information, players that can take it out here to the field and can adjust and, like I say, be self-correcting, to understand what just happened and correct that yourself, that's when you start to realize they really got this down."
I asked coach Sutton which players have impressed him most during OTAs.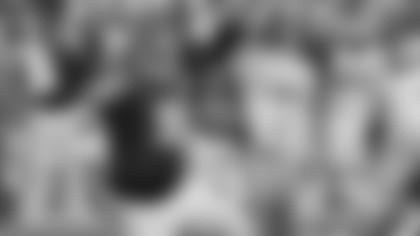 "I think we have a whole group of guys," Sutton replied.
"The entire d-line, Dontari Poe and Jerrell Powe, Mike DeVito obviously has come in and done a good job. I think the entire group up there has really embraced it. The two edge guys are guys that have a chance to be really special players and they're working really hard on learning the entire defense and they obviously have great pass rush ability; both Tamba Hali and Justin Houston are really working on their coverage and their drops and all the other things that go into it. I'm really pleased with those guys. We have some new pieces on the back end; they're all getting used to the system, as is everyone, really. Overall, I'm just pleased with where we're at; I know we have a long, long way to go and I think they would tell you the same."
As for the Chiefs defense during Tuesday's practice, they were again, flying around and making plays, including LBs Akeem Jordan and Nico Johnson.
"They're just trying to learn and coach (Gary) Gibbs has his hands full with teaching these young guys how to be a pro and how to get this defense down. They're doing well right now," Chiefs LB Derrick Johnson said of Akeem and Nico.
As for the offense, rookie TE Demetrius Harris is continuing to work hard and felt he made good strides today.
"Just coming in, staying confident and not get down on myself like I've been doing," Harris said. "The coaches and the players have confidence in me. Today, I just left everything behind and went out and played like I know how to play. That's what they've been looking for, they know I have it in me. I need to stay confident and improve every day, during these OTAs."
That's the goal for Harris and his teammates; improve every day, while waiting for the pads to come on and the real games to begin.
The Chiefs will get better during their next practice, Wednesday at 11:20 AM CDT.