The Kansas City Chiefs haven't had two players gain at least 1,000 yards receiving in the same season since 2008. In fact, that's only happened three times in franchise history.
As of right now, the Chiefs have two players on pace for that mark: tight end Travis Kelce and receiver Jeremy Maclin.
While anyone who has ever talked to either player knows they couldn't care less about individual statistics, the numbers show the impact they're making on the field and how special it is in the larger picture of this organization's history.
"I'm just trying to be there for Alex [Smith] and try to be there for every guy on the team," Kelce said. "Just to do my job every single play."
Kelce currently has 54 receptions for 689 yards and 4 touchdowns, which averages out to 1,002 yards over the course of a 16-game regular season. Maclin is on pace for more than 1,100 yards.
More than 60 percent of Kelce's yards receiving come after the catch, an area he leads the NFL in over the past two seasons.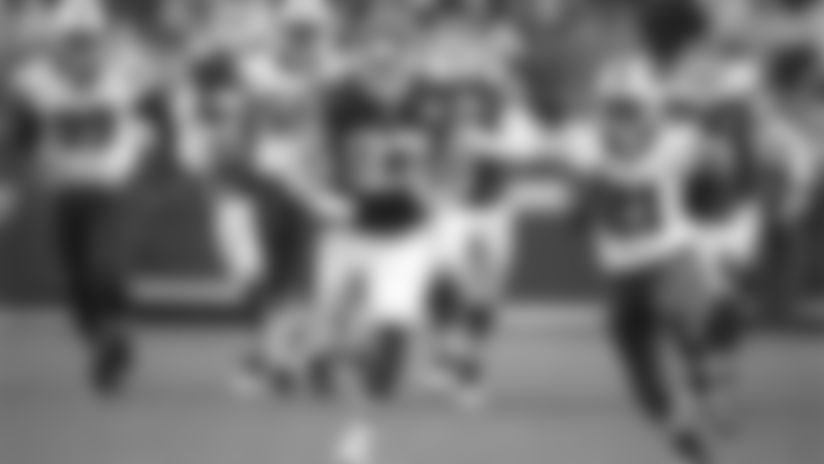 "He's such a shifty guy," Chiefs offensive coordinator Doug Pederson explained. "You're seeing him in more of the short, intermediate stuff kind of wiggling himself loose. That's by design, creating a matchup on a linebacker and-or safety, and we feel like that's a great advantage to us."
The ability to get into those situations and mismatches has been made easier with the development of Kelce's relationship with quarterback Alex Smith.
"I feel like everything we do during the week has made [Smith] feel more comfortable, more aware of where he wants to go with the ball in certain situations," Kelce said. "We try to get in his head and try to get him to tell us where he likes to go on this look and that look.
"Sure enough, when everyone's on the same page, we just roll. We just walk down the field and score touchdowns."
It started in the offseason, when Kelce would drop by the quarterbacks meeting room during OTAs.
He wanted to know what they were seeing, thinking and reacting to on the field so that he could, in turn, react with them.
Now, when they're on the field on Sundays and are thinking the same thing against certain looks, they know what to do without giving it a second thought.
"If [Smith] sees that particular matchup, boom, get right to it," Pederson explained.
It's the basis of why communication, trust and the relationship between a quarterback and those he's throwing the ball to are so important. 
"I'm just trying to be there for Alex and try to be there for every guy on the team," Kelce said. "You know, just do my job every single play. Alex knows that.
"He knows that when I'm running a hitch route to sit that thing down, and when the timing's right – we're rolling."
The Chiefs offense has been rolling recently, averaging more than 34 points per game over the past four games.
Last Sunday against the Buffalo Bills, the Chiefs offense had to respond time and time again as the Bills offense continued to make plays of its own.
One of the key plays in the second half of that game was Kelce's 15-yard touchdown early in the third quarter. It gave the Chiefs their first lead of the game.
It was a big moment, and Kelce had some fun after the play.
That's the side of Kelce that most people talk about, but there's also another side to Kelce—the one fans don't necessarily get to see every day.
"What people don't see is how well he studies," Pederson noted. "How much he's in the weight room, how he's getting treatment on his body, how he's studying the tape and how he works his tail off at practice. That's what people don't see.
"Then when he scores those touchdowns, it's kind of whatever comes out. That's part of him and I love that part of him."
As Kelce prepares for Sunday's game against the Raiders in Oakland, he hasn't forgotten what happened there last year, when the Chiefs, who had won five straight, lost to a winless team.
"It's not in the back of my mind, it's probably right in part of the game plan," Kelce explained. "You have to go in there and be the aggressor. We can't sit back and let Oakland come in and ruin what we've set. The Raiders are a very good team.
"We are definitely locked in."
View the top photos of TE Travis Kelce