The Chiefs Community Caring Team partnered with players from the Kansas City Royals to serve lunch to families at the Ronald McDonald House on Saturday afternoon.
"This event was a chance to support the families of the Ronald McDonald House and give back to the community," Jeff Allen explained. "These families are going through some difficult times so we wanted to distract them and lift their spirits through hanging out with them and serving them lunch."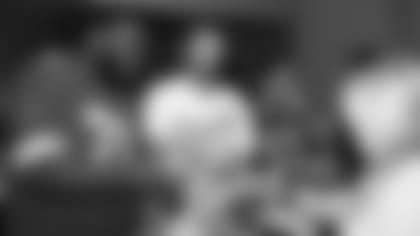 The Chiefs have a long-standing relationship with Ronald McDonald House Charities of Greater Kansas City (RMHC-KC) and on Saturday the Chiefs and Royals collaborated to serve almost 300 people.  
"This was a wonderful opportunity for families staying at the Ronald McDonald House," Holly Buckendahl, CEO of RMHC-KC, said. "The Chiefs and the Royals helped prepare meals and serve them to our families. They signed autographs, visited with the families and it gave some of the families a break from the criticalness of what they are facing. Having the players at the Ronald McDonald really brightened our families' day and took their minds off of what they are going through."
The mission of Ronald McDonald House Charities is to reduce the burden of childhood illness on children and their families by providing a close, comfortable and affordable place for a family to stay while their child receives the medical care they need. The Ronald McDonald House has been serving Kansas City since 1980 and can house up to 60 families a night. They also built the first-ever Family Room in Children's Mercy Hospital, which offers seven families sleeping quarters who may need to stay overnight for their child in critical condition.
"It means the world to the RMHC-KC to have a partnership with the Chiefs and the Royals," Buckendahl noted. "Both organizations have been very instrumental in helping us build our new house, by lending their time, their talent and their finical resources. Plus, both organizations have helped raise awareness for our goals and our mission at the RMHC and we are so grateful for them and their support."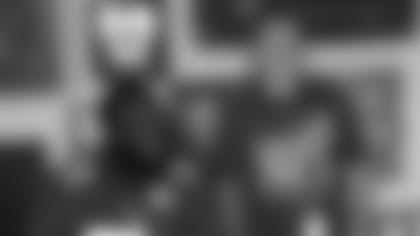 Since 2001, the Chiefs have collaborated to hold a joint service activity with the Royals, to uplift the local community and say thanks for the unwavering support received by both franchises.
"It was awesome to serve at the RMHC and meet the families there, plus it was great to work with the Chiefs players," Aaron Crow, Royals pitcher said. "I grew up in Kansas City so I'm a fan of the Chiefs, just like everyone else. I think it's cool to meet them and serve Kansas City together. The RMHC organization does so much good for our community, which supports us, so it means a lot to have supported them through this event."