The Kansas City Chiefs have clinched the AFC West Championship with a 10-6 record and cemented the No. 4 seed in the AFC for the 2017 NFL Postseason. The club will host the Tennessee Titans for an AFC Wild Card game at Arrowhead Stadium at 3:35 p.m. on Saturday, Jan. 6.
Tickets for the AFC Wild Card game are currently on sale and can be purchased online at www.chiefs.com. All single-game tickets purchased are mobile-entry only. Season Ticket Memberships for 2018 are available now and include access to AFC Wild Card tickets at Season Ticket Member rates. For more information, visit www.chiefs.com or call (888) 99-CHIEFS (24433).
All fans are encouraged to purchase parking passes in advance to secure the lowest price and reduce their time spent at the tollgates. All parking passes are available on www.chiefs.com/parking/. Season Ticket Members who purchased season-long parking at the beginning of the year will be able to purchase prepaid parking for $30. All other prepaid parking purchased will be $40 (plus applicable fees), while parking on the day of the game will be $60 cash at the tollgates.
The Kansas City Chiefs and Arrowhead Stadium staff are advising fans to be aware of counterfeit and other fraudulent tickets and parking passes. All fans are encouraged to purchase tickets and parking passes directly from the team or from NFL Ticket Exchange and are advised to avoid purchasing pre-printed tickets and passes.
Fans are encouraged to stay tuned to www.chiefs.com for more information regarding the Chiefs Playoffs presented by Hy-Vee. Fans with questions or in need of assistance can contact Fan Experience at (816) 920-4237.
2017 NFL Postseason Schedule
Wild Card Weekend – Saturday, Jan. 6 and Sunday, Jan. 7, 2018
Divisional Weekend – Saturday, Jan. 13 and Sunday, Jan. 14, 2017
AFC Championship Game – Sunday, Jan. 21, 2018
Pro Bowl (Camping World Stadium, Orlando, Florida) – Sunday, Jan. 28, 2018
Super Bowl LII (U.S. Bank Stadium, Minneapolis, Minnesota) – Sunday, Feb. 4, 2018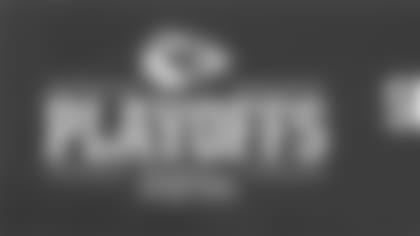 ](https://www1.ticketmaster.com/kansas-city-chiefs-playoff-game-1-kansas-city-missouri-01-14-2018/event/0600536891592930?artistid=805955&tmlink=tmheader_search)