It's impossible to properly honor someone who spent the past 20 years of their life selflessly serving their community, but in a way, the Kansas City Chiefs' decision to name the "Kansas High School Coach of the Year" award after the late Eric Driskell—the former Blue Valley coach who back in February at the age of 43 passed away from a sudden brain aneurysm, is fitting.
It's one way to honor Driskell's legacy as he leaves behind a wife, two young daughters, and an entire community that watched him grow from the time he first learned to walk to the last 20 years of his life making a positive impact in the lives of kids in the same Blue Valley community where he grew up.
But Driskell was much more than just a football coach, which is why the Chiefs decided to put his name on an award that exemplifies everything that's good about high school athletics.
And ultimately, that is his legacy—Driskell was that guy.
"Earlier this year, the Kansas City community lost an outstanding football coach and a great man," Chiefs Chairman and CEO Clark Hunt said in a release. "While Coach Driskell may be recognized for what he did on the field, his character, leadership and unwavering dedication to his family and his community left a legacy that continues today.
"My family and the entire Chiefs organization are honored to commemorate his life and celebrate his service with the Chiefs Eric Driskell Kansas High School Coach of the Year Award."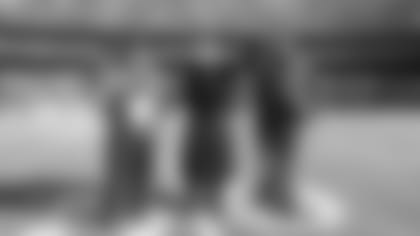 (Driskell (far right) accepting the Chiefs' Kansas HS Coach of the Year award last fall)
When it comes to Kansas high school football, the Blue Valley Tigers are an institution. It's been that way for a while and many of those responsible for building the program's storied tradition over the past three decades, including hundreds of current and former players and assistant coaches, were all under the same roof as more than 3,000 people showed up to the Church of the Resurrection in Overland Park to honor Driskell's life last February.
It was an amazing display of a community coming together to support one of their own. The service was even live-streamed on the internet for those who couldn't attend.
Per the family's wishes, everyone in attendance was asked not to wear suits or dress up in any way, but to wear black and gold to represent the colors of Blue Valley.
This is a football program that has played in 13 of the past 32 state championship games, and they've only had two different head coaches during that time—Driskell, and his mentor, Steve Rampy, who led the Tigers to four state titles and four runner-up finishes in his 25 years leading the program between 1985-2009.
After spending 15 years as an assistant under Rampy, who is now the offensive coordinator at Pittsburg State, Driskell was named head coach of the Tigers before the 2010 season.
In the seven years Driskell was in charge, the Tigers went to five championship games and won two state titles (2010, 2013). After a runner-up finish for the second consecutive season last fall, Driskell was named the Chiefs' "Kansas High School Coach of the Year" for the third time in seven years.
Only two other coaches have ever won the award three times (one of whom is Rampy).
"When I left, [Driskell] was the obvious choice (to replace me)," Rampy explained of his successor. "It wasn't because of his football knowledge because there were people on the staff who may have known more about football. It was about his relationship with the community and having really gone through that from when it started."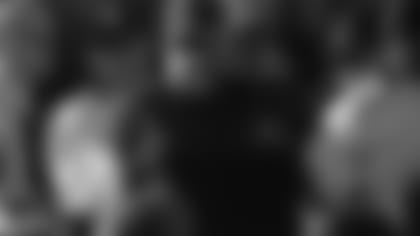 Driskell, who also coached track at Blue Valley, grew up in the community and was the starting right guard for the Tigers on Rampy's first state championship team in 1991. He would go on to play in college at Baker University before returning after graduation and beginning his coaching career in 1996.
"[Driskell] had a great feel for that Blue Valley family environment – the culture, if you will," Rampy added. "He was the logical choice to keep that going. Having said that, he was also a great student of the game. From the beginning, he wanted to learn the game from the grass roots up."
Rampy believed in his former right guard from the start.
"Offensive linemen have a better chance of becoming good head coaches because they are sacrificial by nature," Rampy added. "They understand that their role is often times under appreciated. They're not limelight seekers. They play the game for the sheer joy of just playing it.
"God put [Driskell] on this earth to be a guard. Guards are not tackles—the big, tall, pretty, pass-blocking guys. The centers have to be smart and be a little better athlete, and then, there's the guards. You can't be successful without them. He was sacrificial in his role as a player, and it carried over as a coach. He never asked players to do anything that he wasn't willing to do, and he always had time for everybody."
"Plus, there's a special bond between offensive linemen that doesn't exist anywhere else in the world of sports, and [Driskell] embraced those things," Rampy added.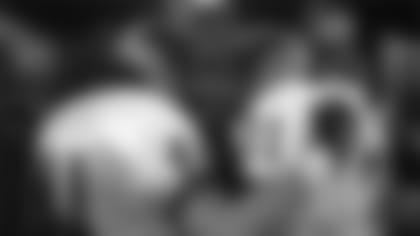 Friday nights in the fall at Blue Valley High School, which sits just east of Metcalf Avenue off 159th street in Overland Park, is the quintessential picture of what high school football is all about. And Driskell, who could be seen with his family on the field before each and every game, was a perfect fit.
"I remember how much he cared about everybody on the team," Zach Rampy, who played quarterback on the Tigers' 2006 state championship team and is currently the offensive coordinator at Shawnee Mission North High School, said of Driskell. "It wasn't where he just spent time talking to just the starters, or just the seniors or the juniors, but he took time out of his day to interact and communicate with everybody on the team.
"I don't ever really remember him yelling. He was able to accomplish and get as much across without necessarily having to yell or chew someone out—that just goes to relationships and the connections that he had with the kids."
For those who have known him the longest, the story hasn't changed.
"I hardly ever remember a time when he wasn't my best friend," Dan Sell, a former teammate and Driskell's best friend growing up and who is currently the current head coach at Chapman High School outside of Manhattan, explained. "We started going to school together when we were in kindergarten and from that point, I felt like we were always together.
"What you saw is what you got with him. He didn't try and be somebody he wasn't, and he made it all look so easy. He was simply what you wanted a coach to be. If you sat down and made a list of what you wanted – the qualities you want in not only a coach, but a man – that was him. He had the compassion, the drive, and obviously, the football smarts.
"And it's tough to be good at all of those things, but he was the kind of person that I would want to coach my kids. He had high expectations and held you to a high standard, but at the same time, he had compassion for the kids, for what they were doing and how they were doing."
For the Blue Valley community, the recent events only further illustrate what's so special about this place.
GoFundMe pages were started and quickly raised tens of thousands of dollars for the family. Local businesses chipped in and volunteers at the BV Touchdown Club sold t-shirts that featured one of Driskell's favorite phrases, "Live like Champions," to raise profits for the family.
"It's kind of cliché there, but it's bigger than just football," Zach explained. "That's what coach [Driskell] always said, but it really is. Obviously, when something like this happens, it doesn't just impact the football team, it impacts the whole community. I think that's why there was such an outpouring of support and love because there is that family environment and family atmosphere.
"If one of ours is hurting, everybody is going to rally behind them no matter what they're doing."
What the Chiefs are trying to do by honoring Driskell is to further cement his growing legacy, which is carried on by every mention of his name and every story told by those who were lucky enough to cross paths with him over the years.
The award will now be a symbol of everything he represented.
"For something like that to be named after him—it's just so fitting," Zach added. "The legacy he has - not only at Blue Valley, but through the greater Kansas City metro area, it has showed here."