Here's a look at each of those games along with Schein's commentary:
No. 8 – Week 11, Chiefs at Los Angeles Chargers (Mexico City) on Monday Night Football
"Mahomes had six touchdowns and zero interceptions in his two games against the Bolts last season, though the teams did split the series. Philip Rivers vs. the Chiefs will be fun. Just like last year. Just like always."
Indeed, this one should be fun. The Chiefs edged the Chargers for the AFC West crown last season after both teams finished the 2019 campaign with conference-best 12-4 records, and odds are the two teams will be battling for the division crown yet again next year.
Fans interested in traveling to see the Chiefs in Mexico City can check out PrimeSport travel packages by clicking here.
No. 7 – Week 5, Chiefs vs. Indianapolis Colts on Sunday Night Football
"It wouldn't shock me if this turned out to be a preview of the AFC Championship Game. And the rematch from last year's Divisional Round -- a game K.C. won handily, 31-13 -- will be spicy. Mahomes hosting Andrew Luck is a fantastic battle of quarterbacks who ooze talent and smarts."
The Chiefs' first prime-time matchup of the season features a Colts' team on the rise as Kansas City looks to continue its stellar record at Arrowhead Stadium since 2014. In fact, the Chiefs' 34 regular-season victories at home over the last five years are the second-most in the NFL.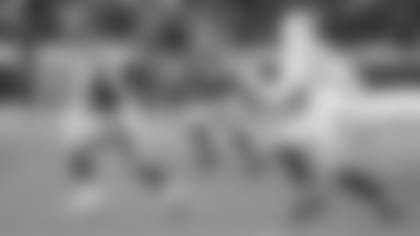 No. 5 – Week 16, Chiefs at Chicago Bears on Sunday Night Football
"Are you the type who just can't wait to open your Christmas gifts? Well, here's an early present to all football fans, a few days before Santa comes down the chimney...The unstoppable offense vs. the immovable defense. Mahomes vs. Mack in a potential Super Bowl preview during the regular season's penultimate week. Am I greedy if I ask for snow? I want snow!"
This late-season matchup also pits the teacher against the pupil as Chiefs' Head Coach Andy Reid faces Bears' Head Coach Matt Nagy for the first time in the regular season. Nagy spent his entire professional coaching career under Reid before joining Chicago prior to last season.
No. 1 – Week 8, Kansas City Chiefs vs. Green Bay Packers on Sunday Night Football
"This is why you love football. This is why you love sports. Aaron Rodgers against Patrick Mahomes for the first time. Arguably the most talented quarterback ever against the quarterback who could eventually challenge him for that title. MVP past vs. MVP present.
"Add in the insane energy of a night game in Arrowhead? Nothing more needs to be said about this game. Just get me to October 27th. NOW!"
Schein said it best – this one speaks for itself. Arrowhead will be rocking.