They grabbed their fishing rods and got to work.
General Manager Brett Veach cast a line down by the water, quarterback Chad Henne scouted out a spot on the other side of the pond and defensive end Allen Bailey took his place on the bridge overlooking the fishing derby - backed by "Urban Kids Fish" - that was taking place at Kansas City Kansas Community College.
This was not an ordinary Monday afternoon for the Kansas City Chiefs.
Veach, Henne and Bailey – along with Chiefs President Mark Donovan and several other players - were all here at the invitation of wide receiver De'Anthony Thomas, the locker room's resident angler, with the simple goal of teaching more than 20 kids how to fish.
"This is designed to help kids connect with nature," said Wayne Hubbard, founder of "Urban Kids Fish" and one of the event's leaders. "One of the big things with this is that most people don't realize that fishing can take you to college. There are universities that have collegiate fishing teams. That's really the goal here – to get these kids connected to nature by using fishing and, hey, maybe one of these kids will fall in love with it."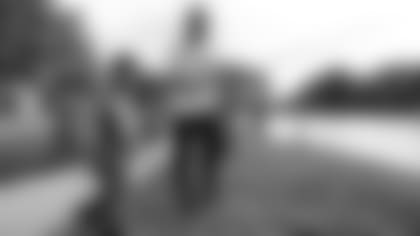 The players in attendance certainly did their part to bring the experience to life. Bailey, for example, has been fishing since he was three years old.
"It teaches the kids some life skills – this stuff comes in handy," Bailey explained. "The thrill of catching one never gets old. You don't always know what you're about to catch – so there's an element of surprise there, too. It's also a challenge and it teaches patience. You have to be patient doing this while having a little bit of skill and luck at the same time."
In a fitting twist, the six-foot-three, 288-pound Bailey's first catch of the day was one of the smallest fish caught by anyone all afternoon.
"Of all the fish in this pond, I caught the smallest one first. I'm the biggest guy out here, so it's kind of comical," Bailey said. "I started climbing the ladder though, each one that I caught was bigger and bigger. I'll probably catch a 50-pounder soon, hopefully this line can hold it."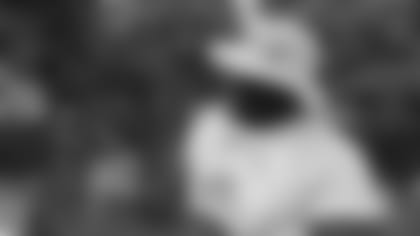 Bailey indeed showcased his polished skills as the event went on, but for others, the afternoon's activities were as new to them as they were to the kids.
"I've tried it a few times, but I actually caught my first fish ever here today," said defensive tackle Xavier Williams. "It feels pretty good. The fish put up a big fight even though it was only a couple inches long. It still counts, though."
The event was made possible through Thomas' planning along with the support of the Chiefs, demonstrating the organization's commitment to backing social justice endeavors that are important to the players.
"To be able to come out here and spend time with these kids and members of our community means a lot," Veach said. "It's fun to see our guys out there fishing and giving back and I'm glad that I was invited to be a part of it. I didn't catch anything, but we still had some fun."
It was one of several "Urban Kids Fish" camps to take place this year across the country, but the players' presence took things up a notch.
"This is absolutely amazing to have the Chiefs out here," Hubbard explained. "It's a way for us to connect with the kids. These football players are the best of the best, but they started as young people just like these kids here today."
The players certainly helped facilitate that connection on Monday, providing an experience that the kids won't soon forget while serving their community in yet another unique way.
"These types of things are important," Williams said. "We work here and we live here – this is our community - so we want to get out here, show our face and uplift people in this community any way that we can."