An overcast sky covered the practice fields Monday morning, when the Kansas City Chiefs began their final week of training camp in St. Joe.
The nearly two-and-a-half hour practice had a little bit of everything, headlined by the news Chiefs head coach Andy Reid provided after practice, about the right foot strain injury, suffered by Pro Bowl RB Jamaal Charles.
"Jamaal Charles hurt his foot," coach Reid said. "He had an x-ray done on it and it was negative. It's a foot strain, and we'll see how he does and take precautionary measures."
Coach continued by giving an evaluation of the morning practice.
"Good work today," coach Reid said. "The guys battled through heavy line on D yesterday and today we did some extended drive work with the ones and I thought they handled that very well. Again, a lot of red zone work today."
The Chiefs defense was very active in the early stages of red zone work this morning, including Chiefs S Kendrick Lewis.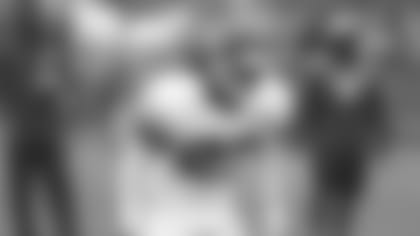 "It was good," Lewis said. "Down in the red zone, it takes a lot of communication, a lot of guys on the same page, so we don't let the offense get in the end zone. Early on, we did a lot of that; we were focused and we played team defense and worked with each other and that's what was able to get us through."
It wasn't just the Chiefs secondary stepping up; its defensive line and LBs were also in attack-mode.
Early on, Chiefs LB Justin Houston deflected an Alex Smith pass, picked off by Chiefs DT Dontari Poe.
"The best thing you can do is make the QB pull up and get your hands on the ball," Houston said. "I did my job."
"I was just running to the ball," Poe said. "Good things happen when you do what you're supposed to do; it got batted up and it came my way."
Not to be outdone, the Chiefs offense responded in quick fashion as Chiefs QB Alex Smith, who finished the day 13 of 21 with 9 TDs, used a variety of targets to make practice more competitive.
"It was a good day to get back on track," Smith said.
"Yesterday was kind of a down day, after the day off and the game; I felt like the tempo wasn't there and the execution wasn't there, but I thought guys responded really great today, especially with the red zone."
Two benefactors of Smith's throws, made possible by great protection up-front, were Chiefs TEs Anthony Fasano and Tony Moeaki, each recording three TDs on the day.
Fasano described the continued progress with Alex Smith.
""That chemistry has to be good," Fasano said "There are tight windows down there. Alex is going to need to know where I'm going to be and I'm going to have to be where he wants me to be; so all that stuff is building, but a couple successful plays help that."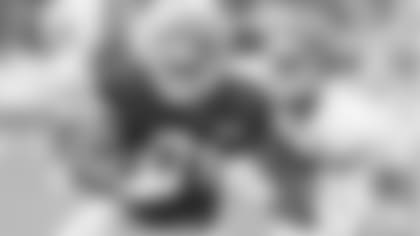 Moeaki also flourished in the red zone.
"(I'm) Just trying to make plays," Moeaki said. "Especially as a TE group, we feel we need to be a factor in the red zone."
The day ended with some special teams work, which included a 58-yard made FG by Chiefs K Ryan Succop.
"We had a good field goal period going," Succop said. "The last one (attempt) was going to be from 53 yards and I said, 'No, let's move it back; let's try to hit one from 58 and see if we can do it;' and we were able to knock it through. Thomas (Gafford) and Dustin (Colquitt) continue to do a great job and that frees me up to go out and kick."
The team continues today in meetings, before returning to the practice field tomorrow at 8:15 AM CDT. Chiefs Camp wraps up on Wednesday with an 8:15 AM CDT practice.