The Chiefs Community Caring Team, led by the team's defensive backs, visited the Negro Leagues Baseball Museum on Wednesday with students from Lincoln College Preparatory Academy for an educational field trip.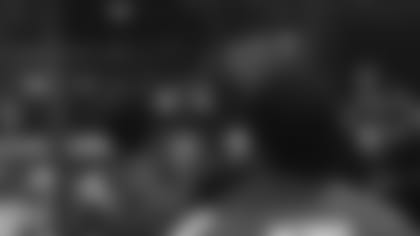 The Negro Leagues Baseball Museum is a local civic treasure, which opened in the heart of the historic 18th & Vine district in September of 1997. The museum recognizes the founding of the Negro National League in Kansas City in 1920 and brings history to life.
"We introduce people to a forgotten chapter of American history," Bob Kendrick, Museum President, explained. "To be able to share these stories with young folks through this museum, helps bring this history to life. Everyone coming through here can relate in some way, it's about the American spirit, passion, determination and pushing through adverse circumstances."
The museum features multi-media computer stations, several film exhibits, hundreds of photographs, a field of 12 bronze sculptures and a growing collection of baseball artifacts. The students and players alike, learned a lot from the tour.
"I learned a lot of interesting things and heard some awesome stories during the tour," Eric Berry said. "I learned about the different struggles African Americans went through and that it didn't stop them. Even though there was still segregation, it was cool to see that in some of the photos that black and white people were both at the games. They forgot the barriers and just loved baseball."
Following the tour, the group heard from the last surviving Negro Leagues umpire, Bob Motley. Motley dreamed of being a baseball player, but after trying out with the Negro League team, he didn't make the cut. Shortly after, he was called to war and served in Japan.
While overseas, he was an umpire at pick-up games and realized if he couldn't play, he could still be down on the field as an umpire. When he returned from Japan, he became an umpire in the Negro League, calling games for many years.
"I'd rather be an umpire at a baseball game than eat a good meal," Motley noted.
Motley is now 91 years old; he is one of the founders of the Negro Leagues Baseball Museum and also served as a Chiefs Red Coater. He earned his Red Coat in 1969.
"I was a Red Coater for almost 30 years," Motley said. "I probably sold 20,000 season tickets for the Chiefs. It was great to be a Red Coater and serve Kansas City."
Motley shared many of his stories with the group and provided great insight into what it was like as an umpire.
To hear some of Motley's stories and to tour the Negro Leagues Baseball Museum, visit their website.