Thursday at the Ronald McDonald House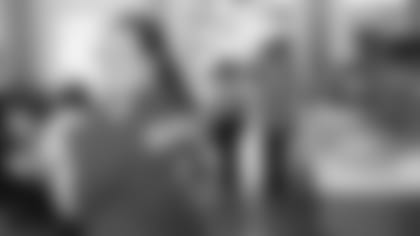 On Thursday morning, 75 members of the Chiefs Community Caring Team, including team president Mark Donovan and former Chiefs quarterback Trent Green, visited the Ronald McDonald Longfellow House to serve lunch and snacks and assist with projects on the facility.
Tami Greenberg, who became the CEO at Ronald McDonald House Charities of Kansas City in the past year, was highly enthused to have Donovan, Green and members of the Chiefs staff on hand.
"Today's a super exciting day for us because we have members of the Chiefs organization here doing all kinds of work," she said. "We're doing work throughout our campus. We have three houses and a family room inside Mercy's Children's Hospital. These extraordinary team members are helping us really elevate the kinds of services we're providing the families of sick kids that stay with us every night."
The Chiefs staff members worked on projects such as outdoor landscaping, cleaning and kitchen work and the renovation of a, as Greenberg described it, "plain-Jane basement," into a dedication to Chiefs Kingdom that would include new Chiefs decorations, televisions and even Kansas City-themed pinball machines.
"It's cool because the Chiefs are an icon of Kansas City," interior designer and winner of HGTV's "Design Star," Jennifer Bertrand, said. "To get a chance to interact with such a legendary organization, as well as throwing my unique twist in design is great. Obviously, there are staples of the Chiefs. The color palette, you do not mess with. It was fun trying to think how to do the Chiefs, but do it in an unpredictable way.
"How do you take a concept and make sure it feels fresh and new and invigorating to families and young kids? So it was really fun taking it and making it fun."
Before the full day of volunteering began, Donovan presented a check for $232,903 to Greenberg and the Ronald McDonald House Charity of Kansas City. The funds were raised by both the Hunt Family Foundation 50-50 Raffle and "Red Thursday" Chiefs Kingdom flag sales during the 2015 season.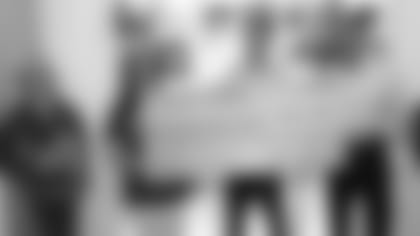 "It's pretty satisfying," Donovan said of presenting the check to RMHC-KC. "The funds will go to this town, to this facility in Kansas City. It went back to families in Kansas City. When you work for a living and you do stuff that we get to do, it's exciting. To be able to a part of this is pretty inspiring."
Greenberg added that when she sees the Chiefs Kingdom flags all across Kansas City, knowing that funds raised from those sales go to her organization makes it all the more special.
"It really is s a symbol of the support the Chiefs have given this charity and the families being served by this charity for many years," she said. "It also helps tell our story in the community. To know that people in this community are waving their Chiefs flag proudly and knowing that they also have supported Ronald McDonald House charities, it really touches our hearts in a really meaningful way and really helps makes this community better."
Friday's "Be the Change" Celebration at Arrowhead Stadium More than 240 local elementary school children representing nine Kansas City area schools were recognized as the "Be the Change" campaign winners at the University of Kansas Hospital Training Complex on Friday.
As music blared from the indoor facility speakers, the children practiced NFL Play 60 drills on the very same field Chiefs players practice on during the season.
As he was rehabbing in the gym located near the field, Chiefs running back Jamaal Charles could hear the music and thus meandered over wondering what was going on. Once he saw the children, Charles stopped to sign autographs and take photographs with all those who were interested in meeting with him.
After Charles' impromptu visit, Chiefs team president Mark Donovan and Chiefs Ambassador Kevin Lockett talked to the children about how to be "Play 60 Student Ambassadors" at their school.
Following that presentation, McDonald's presented each of the nine schools with a $250 check and a Play 60 circuit kit, which included jump ropes, cones and other exercise equipment to take back to their school.
The Kansas City Chiefs, partnered with McDonald's of KC, host a Play60 event for 240 kids.