On Monday afternoon, the Chiefs Community Caring Team, featuring the Red Coaters and Chiefs Ambassador Anthony Davis, served lunch at Cross-Lines Community Outreach. 
The Cross-Lines' hunger relief program is designed to help feed those in need on a daily basis. The organization provides breakfast and lunch five days a week and has a thrift store on site, which is stocked with essential household items. Their goal is to help the less fortunate break the cycle of poverty.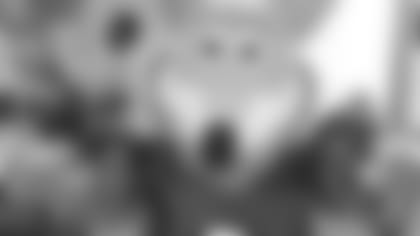 "We are a non-profit organization, providing hunger-relief, non-emergency assistance and we help our participants with basic needs," Theresa Swartwood, Director of Public Relations and Marketing at Cross-Lines explained. "Cross-Lines strives to provide people affected by poverty with basic services and opportunities that encourage them to become self-sufficient again and get back on their feet."
Cross-Lines serves lunch to approximately 275 at-risk individuals and families daily. The Chiefs Red Coaters volunteered to prepare and serve meals to the group on Monday.
"Cross-Lines helps so many people in the community on a daily basis that we were thrilled to volunteer our time here," Mike Ebenroth, Red Coater for 10 years, said. "All of the Red Coaters love to give back and I can't say enough about this group, they have huge hearts and love helping the community."
The Red Coaters constantly volunteer throughout the community, lending a helping hand wherever is needed.
"I think all of the Red Coaters are just wonderful people who love helping out the Kansas City community," Mitzy Graybeal, Red Coater for 2 years, noted. "Volunteering at Cross-Lines was a great opportunity. It made me so thankful that we could help them. You don't know how many meals some of these kids will receive or how nutritious they will be so, at least we can provide them with this meal."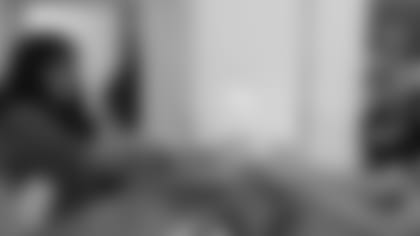 The Chiefs Community Caring Team, including the Rookie Club, the Chiefs Women's Organization and others, have volunteered at Cross-Lines for eight years to help positively impact those in Kansas City.
"We love it when the Chiefs reach out to us to volunteer," Swartwood noted. "I think sometimes people forget about us, but the Chiefs never do. They come every year and it's the highlight of our year. It's such a big treat for our participants, especially the children. The kids are so excited when they see KC Wolf, or meet Chiefs players and Red Coaters. When the Chiefs come here, they bring more than just food and lunch, they bring an uplifting spirit and excitement to the kids; we're so thankful for that."
Cross-Lines is always in need of donations, such as clothing, canned goods, or toiletries. They accept donations from 9 a.m. to 3 p.m. Monday through Friday at their administration offices located at 736 Shawnee Avenue, Kansas City, Kansas 66105. To volunteer, visit their website for more information.