As soon as he read the email, the first reaction was that there was a mistake.
Kansas City Chiefs vice president of communications Ted Crews thought they had reached the wrong person.
Crews received an email back in January explaining that he had won a "Salute to Excellence" Award by the Fritz Pollard Alliance Foundation, which, according to its website, promotes diversity and equality of job opportunity in the coaching, front office and scouting staffs of National Football League teams.
It's a foundation that is named after the NFL's first-ever African-American head coach, Frederick Douglass "Fritz" Pollard.
The current chairman of the foundation is John Wooten, a former NFL player with the Cleveland Browns (1959-67) and Washington Redskins (1967-68) and later an executive with the Dallas Cowboys (1975-91), Philadelphia Eagles (1992) and Baltimore Ravens (1993-2002).
Once Crews determined the email wasn't a mistake, his first reaction was to forward the email to his wife, Michelle, but it was the second reaction that caused him to sit quietly in his office for a while.
"I sat here and I thought about my dad," Crews, who lost his father last year, explained while sitting in his office on the first floor of the Chiefs' training complex. "He would have been through the moon about this." 
Crews and his father were close, and he credits the man he is today and the work ethic instilled in him by watching his father, an All-State Insurance executive who managed more than 20 agents for more than three decades, as a kid and then later on through his life.
"His father used to take him to his job, dress him up with a little briefcase," Crews' mother, Bobbie, recalled of a young Ted. "He taught him all the way back then the first steps in what it takes to be in management, how to carry himself and how to speak. We used to go on all these trips with All-State and little Ted was right there by his dad's side."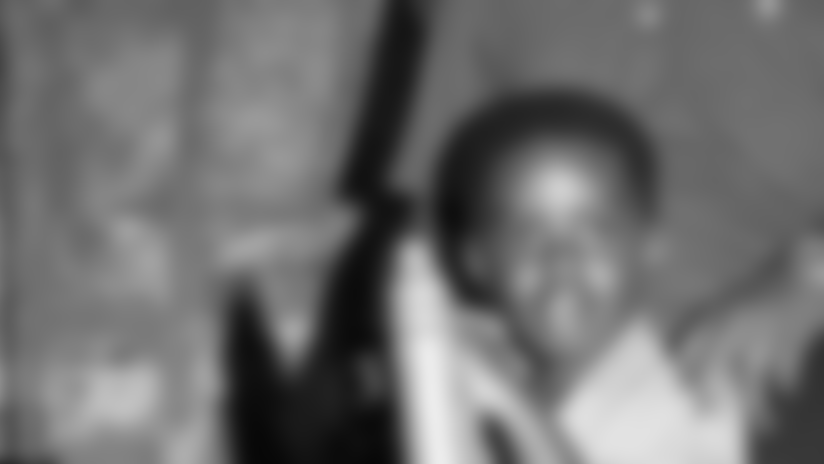 Bobbie was in Kansas City visiting when Ted received that email, and she couldn't have been more excited for him, although Crews tried to downplay the whole thing to his family when he got home, according to her. 
"When they call your name, they're calling your father's name, my name and your ancestors' names," Bobbie, whose faith is without question what defines her, recalled of her message to her son.
"Wherever the dads are, their legacy is on their sons," she added.
When Crews got to college, his initial dream was to be a sports broadcaster—idolizing the late Stuart Scott, but it didn't take long in that profession to learn it wasn't the path he wanted to pursue.
Despite two years of internships that had him on the assignment desk during the day and countless ride-alongs with reporters at night, it was after one particular day that he decided it was no longer the path for him, and Crews walked out and decided he was going to do something else.
It was then he had a conversation with his father that he remembers to this day.
"My dad challenged me," Crews explained. "He said, 'You have to figure out what you love. You're going to do a job—be out in the middle of the ocean, there is no land (picture it), you're working – what do you love?'
"And for me, it's always been sports and people."
That was one of the moments in Crews' life that paved a path to one of the mentors he'd first mention to this day as a reason he's in this position and profession.
Crews attended South Carolina State University, a historically black college in Orangeburg, South Carolina, and he majored in English.
Through a family friend, Crews was introduced to the longtime and legendary sports information director at SCSU, Bill Hamilton, who needed help getting some content on the football team.
Hamilton asked Crews to attend a press conference to see what he could do.
"I asked him to take some notes, and then, write up a little story," Hamilton recalled. "I just wanted to see where Ted was, and it was kind of hard for me to hide my enthusiasm to what he'd done. It was really good. I said, 'Well, maybe that was a little luck.' So, I told him to do it the following week, and it was even better.
"Crews became the person to do the notes from our press conferences on a weekly basis, and he got better and better."
That began a professional relationship and friendship that's lasted almost two decades.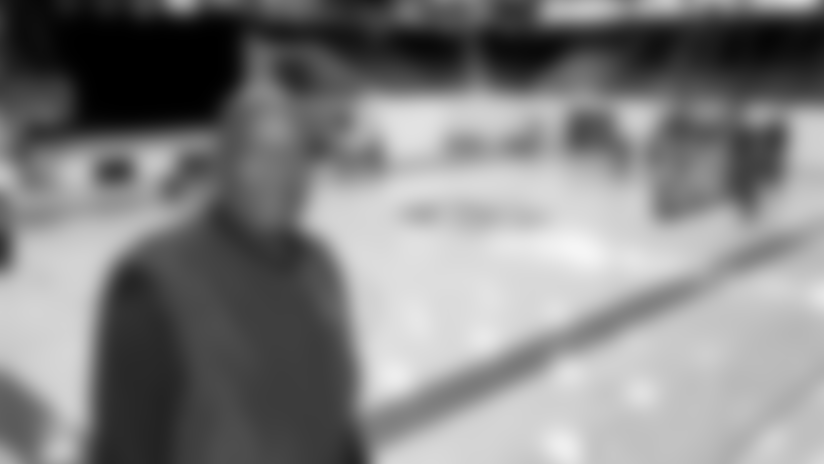 "We are proud of him here, and not only did Ted turn out to be one of my most productive students, but we were great friends and I have a close tie with his family as well," Hamilton explained. "Ironically, one of my other students that was right along there with Ted, Avis Roper, works for the Indianapolis Colts. We have two of them from our small university out of 32 communications specialists in the NFL.
"To have Ted and Avis reach that level, personally, I'm gratified, but the university is quite proud of those two young men and they hold up examples of hard work, dedication and where you can go if you set your mind to it. You have to work hard because those opportunities are limited, but we believe those opportunities exist."
Through Hamilton's relationships, Crews was given an opportunity with the Carolina Panthers as a summer intern, which he did for a couple of years before getting offered a full-time position.
"[Crews] has always been a gregarious personality," Charlie Dayton, the longtime communications director for the Panthers whom the press box at Bank of America Stadium is named after following his 21 years of service to the team, explained. "He could light up a room. He just had to learn that along with that, there were a lot of skills you had to acquire with that great personality, but people always gravitated towards him."
Crews would later work with the Atlanta Falcons and St. Louis Rams before finding his way to Kansas City, where he's held the position of vice president of communications for the past five years. 
For Crews, who said, "It's a long way to the NFL from South Carolina State," the road and path he's taken to be in this position isn't lost upon him, and neither is the fact that he's one of only a handful of African Americans to hold an executive position in the NFL. 
"I take it very seriously," Crews explained. "I don't take it for granted that I'm here. I also know they can find someone else to be here tomorrow, so I never lose sight of that. I'm one of 32 people – all of us – that do these jobs. However, I am African American, so I do think about the numbers and the opportunities. I don't think anything should be given to anybody. I don't think anything was given to me, but I do think that all of us need sponsorship.
"We all need someone to say, 'Here's an opportunity for you.' Now, it's up to you to do with the opportunity."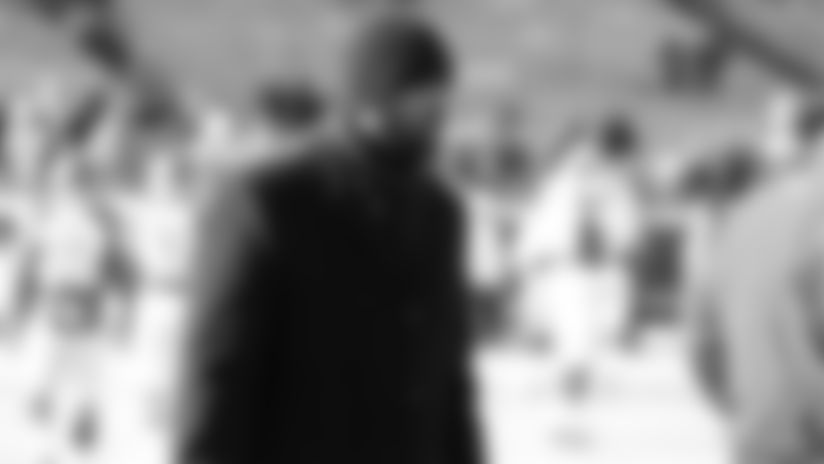 Crews, who subscribes to the idea of paying it forward, has spent time back at his alma mater talking with the students and helping those who are trying to take a similar path. The fact that he won this particular award from the Fritz Pollard Alliance Foundation will mean even more to those who helped him get to where he is today because of what it represents.* *
"If you're African American, and you're working in this league – you cannot not know (FPAF chairman) John Wooten because he is a larger than life figure in all that he's done for the advancement and education of what you're representing," Crews explained. "For me, the 10 other guys of color that are doing this (communications) job currently—that's a fraternity within a fraternity."
Since arriving in Kansas City before the 2012 season, Crews has enjoyed his time with the organization and said he can't help but grow in this business considering who he's surrounded by every day.
"Working with the ownership we have with Clark Hunt and the entire Hunt family—I've been blessed to be constantly challenged and consistently pushed," Crews explained. "(President) Mark Donovan, who is one of the smartest men I've ever met and being able to pick his brain, it's been phenomenal. Then, when you can sit with Andy Reid every day and you learn that 99 percent isn't good enough, and you have to work at 100 percent all the time, again, (General Manager) John Dorsey—same deal.
"For me, it goes all the way back to my parents. My dad is the person that taught me how to work, what work is, not to watch the clock, to enjoy the journey, all the little things that I am. I was blessed that I grew up with that example. The way I saw him treat his employees has carried over.
"It's about people – this whole thing is about people."
(Crews and his father at his wedding)
Reid and Donovan appreciate the way in which Crews handles himself. 
"Every head coach needs to have a good P.R. director," Reid explained. "Not to publicize yourself, but it's about keeping you in touch with what's going outside the building. Ted's got a really good feel for that and I'm never really surprised by questions I'm asked in press conferences, and he's got a great relationship with the players and the players trust him.
"They have to be able to do that so they don't feel like he's always running to me and telling me what they said or what they feel. I think he does a nice job managing all of us and that's part of his job."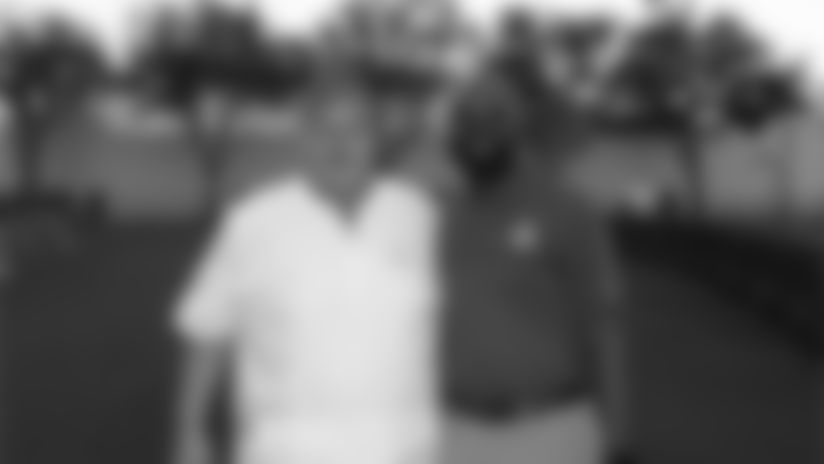 "Ted's done a tremendous job of building our communications department and cultivating strong relationships with local and national media," Donovan said. "His role has an impact on every department in our organization, and we benefit from his experience and input in our decision-making processes.
"He's a valuable asset to our leadership team, and very deserving of this recognition for the work he's done behind the scenes. We are proud of him and proud he is a member of the Chiefs family."
One thing Crews learned from Dayton back in his days with the Panthers when he was first getting into this business was that you have to surround yourself with the best people, and he's carried that with him to the Chiefs.
"When you do a job like this, you can't do it by yourself, and you want to hire people that are better than you, more talented than you and more motivated than you, which prayerfully and thankfully I have," Crews added of his communications team with the Chiefs. "I love them, and I care about them as people, I care about their careers and I care about their families.
"I think that we are blessed that way down here – that we are that way for each other."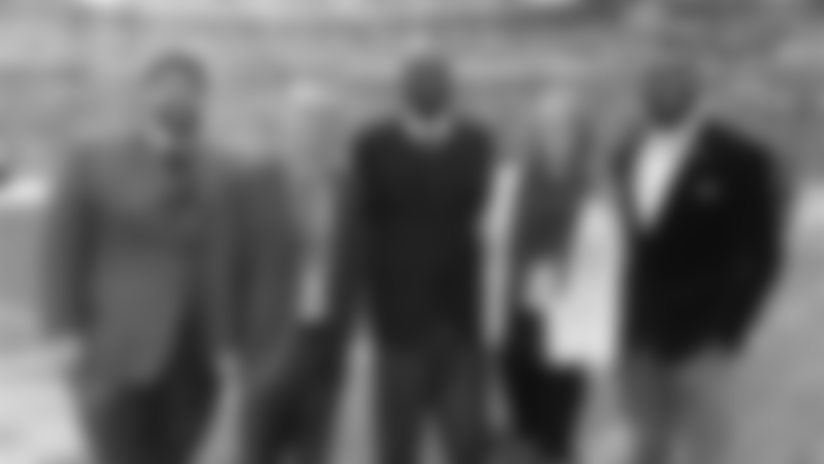 (Crews and his staff at Wembley stadium in London in 2015)
"One of the things I appreciate most is the culture [Crews] has created in our department," Brad Gee, the Chiefs' director of football communications, said. "We all have a voice, he encourages our ideas and thoughts and that alone has helped each of us grow significantly. Above all, he's always looking out for us and trying to help us achieve our goals, both personally and professionally.
"We've handled a number of different tasks and challenges together and in nearly every interaction I've learned something new from him."
When Crews was presented the "Salute to Excellence" award prior to the Super Bowl in Houston, his wife, Michelle, surprised him by being there, along with his staff.
"They were there genuinely there to support me," Crews explained. "Looking out there and seeing them was phenomenal. It was a blessing."
Also, grounded by his faith, Crews never stops taking the time to count his blessings.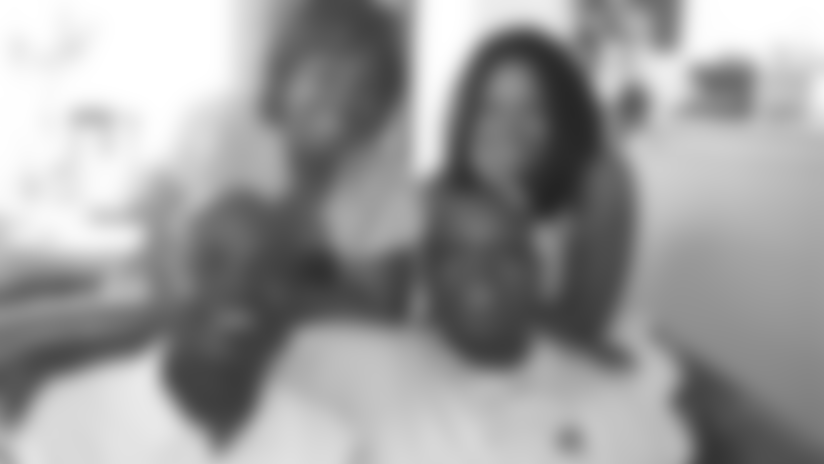 (Crews with his mother, father and sister)
"Listen, I'm not the brightest guy, I'm not the smartest guy, I'm not the most talented, but I was afforded some great opportunities by some great people," Crews explained. "I was raised by great parents, and I got taught this job the right way. I'm just honored—humbled is probably a better word. My name is on the award – I'm not sure it goes together, but I'm very honored.
"Again, anybody that says anything good about me, or if my name is in a book somewhere, or even when you say, 'Tonight's honoree,' I love it because anytime you say anything good about me, you're saying it about my dad."