As part of the NFL's partnership with the American Cancer Society, the Kansas City Chiefs honored National Breast Cancer Awareness Month during Sunday's game against the Chicago Bears. The league's campaign, "A Crucial Catch," emphasizes the importance of regular breast cancer screenings, especially in lower-income communities.
Players, coaches, personnel and fans are encouraged to wear pink for the month of October to support the cause. Each game across the nation will feature game balls with pink ribbon decals, pink equipment for the players, pink coins for the coin toss, pink sideline hats and other gear for coaches, sideline personnel and officials. The Chiefs cheerleaders and KC Wolf also donned pink on the sidelines.
Outside of Arrowhead, volunteers from Zeta Tau Alpha handed out "Think Pink" ribbons to fans to be worn as a sign of support and raise awareness for breast cancer screening and early detection.
Members of the Chiefs Women's Organization also greeted fans with "I Cheer For…" cards in support of loved ones who have been affected by the disease. Fans were encouraged to take selfies with the cards and post them to social media using #ChiefsVsCancer in order to show their support.
During halftime, 60 season ticket members and Red Coaters with a personal connection to breast cancer took part in a special pink balloon release while more held the Chiefs flag and pink ribbons on the field during the National Anthem.
The Chiefs selected mother of two, Kaleia Hayes, as their October 11 Pink Seat Honoree. Hayes received four tickets to the game, pregame field passes and an autographed pink football courtesy of the club. Another honoree will be selected for the Chiefs October 25 game at Arrowhead.
BCA will last throughout the entire month of October and part of all efforts will benefit breast cancer patient care at the University of Kansas Cancer Center.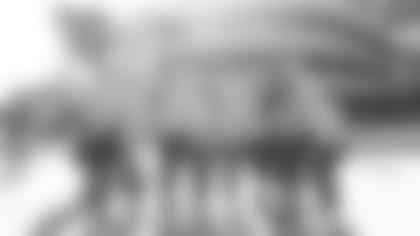 The first half of October and the second half of September also are part of National Hispanic Heritage Month.
During pregame, the Chiefs acknowledged Irene Caudillo, president and CEO at El Centro, as their Hispanic Heritage Leadership Award honoree.
"I think a large part of Hispanic Heritage means awareness," Caudillo said. "We have been a part of building this country and been involved in a large facet of everything. For the NFL to acknowledge a heritage and a population that I'm very proud to be a part of is very important to the awareness of the entire community and building more of a cohesiveness about who we are as a diverse population."
Caudillo is in her second year with El Centro, a non-profit corporation that helps to strengthen "communities and improve the lives of Latinos and others through educational, social, and economic opportunities."
"What this is about is really combatting some of the negative and stereotypes and putting the spotlight on the influences that we have as a community," Caudillo explained. "I love the acknowledgment. I just think it's a part of education, collaboration and awareness that has been very important to the work that we do at Centro."
In her time with the corporation, Caudillo has helped to instill an air of encouragement and support for the local Hispanic community. One of its prime programs, "Promotoras de Salud," educates people, whose primary language is Spanish, about healthy lifestyle options, including topics like the importance of regular mammograms and other breast cancer treatment options.
Caudillo is committed to helping her community, and, of course, her Kansas City Chiefs.
"I had family members that have been ticket holders for a long time," Caudillo said. "I don't get the pleasure of coming often, but the cool thing about it is I can say I was in the Founder's Suite. So I kind of one-upped them."
As part of recognizing Caudillo's achievements, Chiefs chairman and CEO Clark Hunt presented El Centro with a $2,000 donation thanks in part to the NFL Foundation.
El Centro is in its 40th year of existence.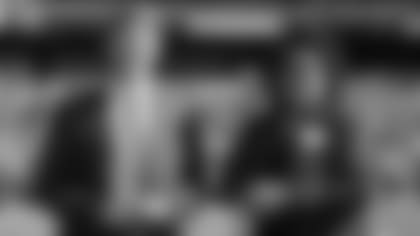 Joining Caudillo on the sidelines were brothers Noah (14) and Kane (9) Marker. They were given the opportunity to take part in pre game warm-ups by the Chiefs and Dream Factory.
"They've been excited all day," said Noah and Kane's mother Christy. "We didn't tell them what they were coming to do, so they just found out when we got here. They've been all smiles this whole time, just nonstop."
Noah and Kane got to watch the Chiefs warm up from the team's bench and afterward gave high fives all the way down the line.
"They've grown up Chiefs fans, so to be able to do something like this is crazy. They will remember it forever."
The brothers were born with arthrogryposis, a condition where joint contractures hinder the movement of the joints. Activities such as walking and eating are difficult and often the muscles surrounding the joints are weak, stiff or not there entirely.
But, according to Christy, it won't stop her little sports fans.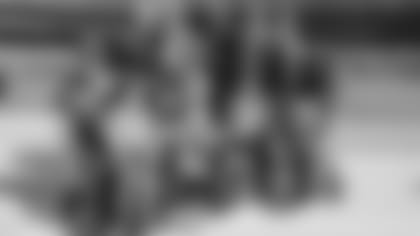 "They are the biggest sports fans in general," Christy said, "They just love the Chiefs, so this is kind of a once in a lifetime opportunity for them."
Kane's favorite player is wide receiver Jeremy Maclin. Noah's is everyone.