Here are five things to watch for in the Chiefs game against the Denver Broncos:
1. Getting Jamaal Charles involved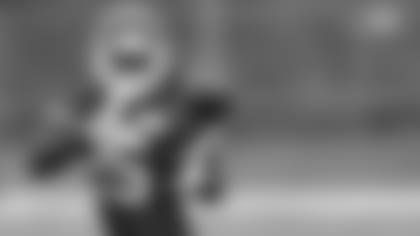 The most talked about storyline after the Chiefs loss to the Titans last week was the lack of touches for Jamaal Charles.
It's been addressed by the coaching staff every day this week, and the impact Charles has on the offense isn't lost upon them heading into their matchup with the Denver Broncos on Sunday.
"Every week we go into it and say we got to get Jamaal (Charles) touches," offensive coordinator Doug Pederson said. "We can't tell you how many touches but we just want to get him the football. It's something where we have to get a conscious effort to do that.
"We know teams are going to scheme for him but we also scheme for that. We have the ability to get him in a lot of different positions and a lot of different areas in our offense. We just have to make a conscious effort to get him the football." Pederson knows the Broncos made a conscious effort to improve their defense from last season by picking up some key free agents over the offseason.
"They went out and got some top free agents and it's really improved their defense," Pederson said. "In that Colts game last weekend, they were flying around and making plays. They don't do a ton of stuff on defense which allows them to play fast.
"I think the fact that they can rush the passer—DeMarcus Ware and Von Miller coming off the edge—I mean those are two top-notch NFL pass rushers so we got our work cut out for us."
But it's about getting Charles and the running game going that will open up the offense against the Broncos, something they didn't do last week against the Titans.
"The run game has a big part of that because as we know if you have the ability to run the football it opens up your passing game," Pederson said. "The score, the way it got a little out of hand there in the second half dictates what you do offensively a little bit.
"So there are a few factors that go into how you operate offensively, we just have to do a better job in the first half of the game."
Charles has had success in his career against the Broncos with 153 carries for 823 yards and four touchdowns.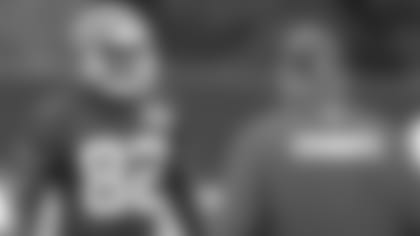 After serving his one game suspension, receiver Dwayne Bowe will be back on the field for the Chiefs this weekend in Denver.
Quarterback Alex Smith is happy to get his top target back on the field.
"We wouldn't be very, very excited if he wasn't a big play maker for us and a real weapon on the outside," Smith said.
Bowe is just 906 yards away from becoming the Chiefs all-time leading wide receiver in franchise history, and Pederson knows it's key for Smith to have him back on the field as well.
"[Smith] has worked with him now a year and a half and they have a good rapport with each other," Pederson said. "They kind of understand a little bit about each other so that's good to have him back. Just having [Bowe's] veteran leadership—his presence out there with a lot the young guys we have at that position, is good to get him back out on the field."
The continuity between Smith and Bowe isn't something that can be developed without time and reps, which is something coming into their second year together, Smith and Bowe now have.
"It's huge. This offense is always, as far as our passing offense goes, a timing offense," Pederson said. "So you've got to have that timing and that rapport and that relationship with your receivers and you have to understand who's the long stride? Who's the short stride? Who's the quick guy? The slower guy? Who's better in and out of breaks versus man?
"So all of that takes time and you've got to have a lot of reps and having Dwayne back out there, they've had a lot of reps together."
It's not just his continuity with Smith that helps the offense in terms of individual production. Bowe's presence as a legitimate threat on the outside helps open up the entire offense.
Second-year tight end Travis Kelce understands what Bowe can do for him, as well as the other guys out on the field.
In his first game, Kelce caught three passes for 49 yards.
"You have to respect what that guy has done and what he can do," Kelce said. "Having him out there, it just creates another weapon that they have to be conscious of. That's huge in terms of all the other guys that we have on the field with Donnie (Avery), Anthony (Fasano) and Jamaal (Charles)."
3. Controlling the line of scrimmage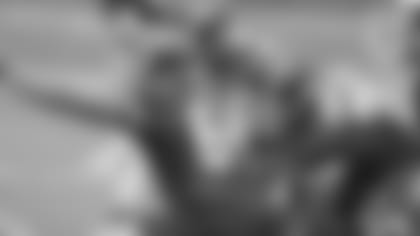 When facing the Broncos, trying to keep their offense off the field for as long as possible is always important. That means the guys up front along the offensive line need to play well and control the line of scrimmage.
After struggling through parts of the first game against the Titans, Pederson spoke about the continuity needed along the offensive line in order for it to play well.
"It comes with time, it comes with reps, the more reps they get in practice the better off they're going to be," Pederson said. "(Mike) McGlynn has only been here a couple weeks, and he's getting better each and every day and he'll get better as the season goes on at the guard position, same with Zach Fulton and all of those guys.
"I just know through experience that the more time they spend together, they are going to see things and recognize things faster. And ultimately it shows in their play."
When asked specifically what they needed to do in order to improve, Pederson said it's a group effort.
"Any offensive line coach or offensive line would say that you've got to protect your A-and B-gap, you've got to protect inside-out," Pederson explained. "And I think we've done a good job there, but guys are going to get beat from time to time.
"We also put a lot on the quarterback to get the ball out of his hands, progressions, reads, drops, so a lot of times you don't see what happens in the secondary as you do up front. There's a lot involved when it comes to protection, not just the actual physical blocking of the D-line."
The Chiefs will have their hands full with the Broncos two outside pass rushers in Von Miller and DeMarcus Ware, but left tackle Eric Fisher said they're taking a 'business as usual' approach.
"They got two very talented pass rushers but everyone has talented pass rushers," Fisher explained. "So we're approaching it the same way we approach every week and we're just taking it a day at a time and look forward to Sunday."
4. Containing Julius Thomas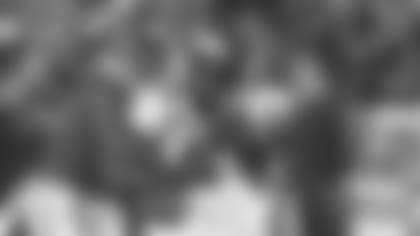 The reigning AFC Offensive Player of the Week is Broncos tight end Julius Thomas, who caught seven passes for 104 yards and three touchdowns in their victory over the Indianapolis Colts.
Safety Eric Berry, who finds himself in coverage on tight ends at different points throughout the game, says you just have to trust in what you're doing when you face a talented player like Thomas.
"You just got to use good technique, trust yourself, trust your training and trust your coaches," Berry said. "We have great coaches—Al Harris who has been helping us with our press technique. In man coverage, I think he's been a big help to us. Just staying sound in those areas and not doing too much. Just going out there and playing ball."
Defensive coordinator Bob Sutton said it's not just about containing Thomas when facing the Broncos offense.
"It's hard and challenging in two ways," Sutton explained. "One, [Thomas] is a really good football player. Two, he's surrounded by a lot of really good football players. With Peyton (Manning), they're not a one-man show and never have been, they're not going and targeting one particular guy.
"[Peyton] has basically done whatever the coverage and the look has told him to do. We have to do different things to handle a guy that's as good as he is. You just try to mix and match that thing and like I said, you know going in, I can't just give him one look. I can't give him a steady diet of this because he's just too accomplished as a player."
Berry said that being physical with the guys out in space is key to any defense, but especially when facing the Broncos.
"That's very important just for the fact that everything they do is based off timing, based off rhythm," Berry explained. "Peyton's going to put the ball where it needs to go, so anytime you can knock them off their course or knock the timing out, I think that will make it very difficult for them to move the ball.
5. Broncos offensive timing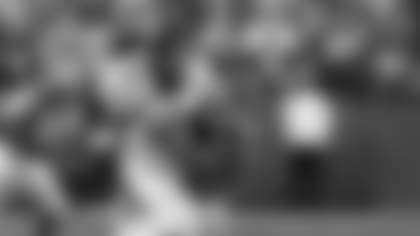 You don't become one of the best quarterback's in the history of the NFL without being able to decipher any defense that's thrown at you.
But one thing Manning has been very good at throughout his time in the NFL and especially over the last couple of years in Denver, is his ability to get rid of the ball quickly.
Most high-powered offenses can be stopped with physicality and with pressure—that's the simplest way to shut down any offense. But when a quarterback is getting rid of the ball in less than two seconds, which Manning routinely does, getting to him in time to create that pressure is difficult.
"We obviously can't control how fast he gets rid of the ball," Sutton said. "I think in any situation, especially against a quarterback of his caliber, you always are trying to mix up what you do. I think any time you give him a steady diet of anything, history says he can dissect that pretty well. So we just have to mix up whatever we can do and you just have to try to affect him in different ways."
While going up against Manning is never easy, Sutton said there are only so many things you have to worry about shutting down with the ball coming out so quickly.
"The one thing that is true—the faster you get rid of the ball, then the less places the ball can go," Sutton said. "The ball can go outside, high, fast or the ball can go in here quick, but then you should be able to rally on the football."
Cornerback Ron Parker, who knows he has his hands full facing this Broncos offense, understands what he needs to do in order to be successful.
"It was real important to disrupt the receiver's timing off the edge," cornerback Ron Parker said. "Their offense is based off of timing and if you disrupt the receivers on the outside, it throws off the timing a little bit. So it's a real important deal for us to be physical with receivers and get hands on the outside."
The newest Chiefs defensive player, veteran lineman Kevin Vickerson, who was signed just this week, spent the last four years with the Denver Broncos. He had an up-close view of Manning every day at practice, and although it's unclear whether or not Vickerson will get any playing time in this game, he knows what the Chiefs defense is going up against.
"Their model is they want to go fast, but at the end of the day, you can't panic," Vickerson said. "Just keep your composure and try to get in the passing lane. I mean if it's a quick step, you just got to get your hands up. You just have to push the pocket and get your hands up. Try to affect him to take away those windows."
These are five things to watch for during the Chiefs game against the Broncos on Sunday.