On Monday night, the Kansas City Chiefs offense averaged 6.7 yards per play and had 15 plays that went for at least 10 yards, including 12 in the first half.
They were efficient, explosive and they took care of the football, finishing the game without any turnovers.
Coach Reid has said two of the most important statistical categories on offense are third down conversion rate and red zone success. The Chiefs converted 7 of 12 third downs and were 4 of 6 in the red zone. 
They're currently tied for fifth in the NFL in third down success rate at 50 percent, and are tied for sixth in red zone touchdown efficiency at 66.7 percent.
Quarterback Alex Smith finished the game 20 of 26 for 248 yards and three touchdowns.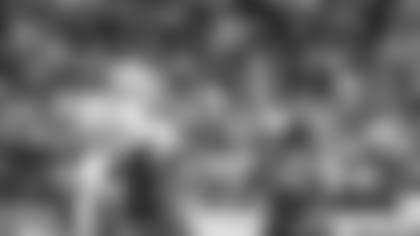 Meanwhile, second-year tight end Travis Kelce continues his breakout performance this season with another strong showing with eight receptions for 93 yards and a touchdown.
Dwayne Bowe had five catches for 81 yards, which is his best statistical performance since September 30, 2012 against the San Diego Chargers.
In the running game, the Chiefs used the two-headed monster of Jamaal Charles and Knile Davis perfectly, as they combined for 199 yards on 34 carries.
Those are your basic box score statistics, so now let's take a closer look at how they got these numbers.
The Chiefs offense ran 64 plays (not including the two kneels at the end) against the Patriots, and they used eight different personnel groups, which varies the number of running backs, tight ends or receivers.
Of those eight groups, they used six of them on at least seven different plays throughout the game. The two most popular groups were 11 personnel (one running back, one tight end, three receivers), which they used 14 times, and 12 personnel (one running back, two tight ends, two receivers), which they used 13 times.
In 11 personnel, the Chiefs were 50-50 on pass plays (7) to run plays (7), but with two tight ends on the field together in 12 personnel, the Chiefs called 10 pass plays to just four rushing attempts. 
While the Chiefs were successful in most of their groupings, they averaged over 11 yards per rush with three receivers on the field.
In the passing game, the Chiefs completed 11 of 13 passes for 154 yards with two or three tight ends on the field together. In that same grouping, they ran it eight times for 19 yards.
With two running backs on the field together, the Chiefs ran the ball 20 times for 110 yards, which doesn't include Dontari Poe's debut at fullback on the goal line—because they threw the ball on that play.
Poe played a really massive decoy on Kelce's touchdown reception on the play action pass.
Of the 15 plays that went for at least 10 yards, the big plays per se, they all came in five different personnel groups and they had at least two plays go for 10-plus yards in each group.
Plays of 10 yards or more per personnel group
22 personnel – two plays, 20 personnel – three plays, 13 personnel – 3 plays, 12 personnel – four plays, and 11 personnel – three plays.
Four of the first five "big plays" came with fullback Anthony Sherman on the field in either 20 or 22 personnel.
Another interesting note on the Chiefs 13 plays in 12 personnel: 11 of them had a down and distance of 10-plus yards to go for a first down, and only twice did they use it on third down. Both were converted, a third-and-8 went for 15 yards and a third-and-10 went for 12 yards. 
The Chiefs didn't use 13 personnel on any third down of their nine plays in that group.
The game plan against the New England Patriots worked extremely well for the Chiefs offense, and now they prepare to do the same against the San Francisco 49ers.