Here are five things to watch on Sunday:
Last year, the Chiefs set the Guinness World Record for the loudest outdoor stadium against the Oakland Raiders at Arrowhead in a 24-7 win. In that game, Chiefs Kingdom was responsible for three false starts and three delay of game penalties on the Raiders offense.
"I think one of the real strengths of our home is the fans in particular," defensive coordinator Bob Sutton said. "That really plays for all sides but particularly for defense, particularly on third down because everybody can kind of feel that sense of urgency that we have.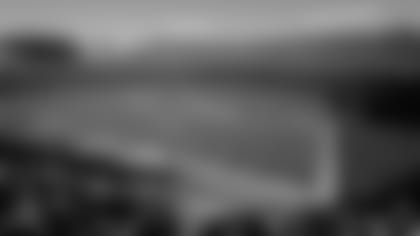 "Even from just an offensive lineman having to look at the ball, can't be set, can't be surveying the defense quite the same as maybe when he's at home. So I think all those little things add in and we consider it a huge advantage for us."
If the Chiefs defense can do their jobs on first and second down, forcing the Raiders into third-and-long(er) situations, the fans can help on third down.
"It's definitely a benefit to us," cornerback Sean Smith said of Arrowhead Stadium. "They get loud and it makes communication on the offensive side of the ball difficult.
"For us, there's nothing like going out there and performing at a high level and making plays and having the crowd there to respond there with you."
Over the past three games at Arrowhead Stadium, the Raiders have converted just 9 of 38 third down attempts (24 percent).
2. Winning the line of scrimmage
For the Chiefs to be successful on Sunday against the Raiders, they'll need to play better than they have recently in the trenches on both sides of the ball.
"I think matchup-wise, our offensive line versus their front," Chiefs offensive coordinator Doug Pederson said of the key matchup. "These guys are playing even better than from the first game. That's only been a couple games ago and they're not doing as much anymore on defense.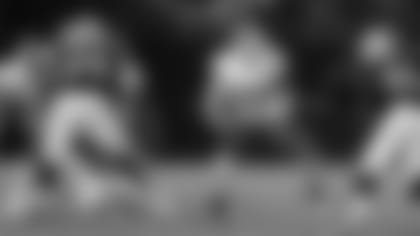 "They've really toned down some of their pressure packages and different looks. They can play fast and I think (Justin) Tuck has reemerged a little bit as a pass rusher now and (Khalil) Mack is a tremendous athlete and speed guy off the edge."
The Chiefs offensive line has given up 11 sacks over the last two games and they will need to not only protect Alex Smith against a Raiders defense that had five sacks last week against the San Francisco 49ers, but also control the line of scrimmage to get the Chiefs' best offensive player, running back Jamaal Charles, the football with a clean look through the first level of the defense.
Charles has the ability do the rest all by himself.
3. Third down success on both sides of ball
It's the most important statistical category for either side of the ball.
In the first game between these two teams, the Raiders converted 8 of 16 third downs, while the Chiefs struggled and converted just 2 of 14 third-down attempts.
"They do a good job on third down so I think one of our big challenges is when we get them to third down, we have to win those," Sutton said. "We can enhance our opportunity by playing really good on first and second and making those as long a yardage situation as possible."
If the Chiefs win third down on both sides of the ball, their chances of winning are greatly improved.
4. Joe Mays vs. Latavius Murray
The Chiefs will probably see a steady dose of Raiders running back Latavius Murray on Sunday.
Murray ran for 112 yards on just four carries back on November 20 against the Chiefs, including two touchdowns. One player who should help the Chiefs this time around is veteran linebacker Joe Mays, who stepped in last week on defense for the first time this season after missing the majority of the season with a wrist injury.
"Well Joe (Mays) did a real good job," Sutton said of Mays' performance last week. "I thought he played real aggressive, downhill. His instincts were pretty good for his first time back in there seeing things and I think we were all pretty pleased with what he did."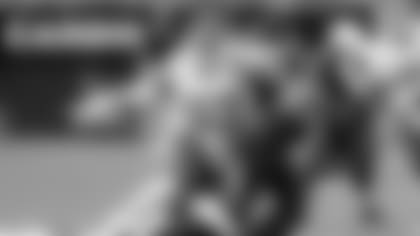 Mays spoke this week about what the Chiefs need to do to improve their run defense.
"Having guys in each of the gaps and being able to get off the blocks and make plays," Mays said. "It's pretty simple, and it's easier said than done, but we definitely have to come out and practice and work at it so we can be good [this week]."
Mays continued with what he brings to the field.
"Just play a physical style of football," he said. "That's how I was taught growing up, that's how I was taught to play. You play physical and you hit a guy before they hit you. It's stuck with me the whole time I've played throughout high school, college and the NFL.
"That's just who I am and that's what I am about."
While it's a team game and the whole defense is responsible for containing Murray, or anyone else for the Raiders, the matchup of Mays coming downhill against a downhill-running Murray should be something to watch on Sunday.
5. Chiefs defenders catching (or not) interceptions
Four of the Chiefs' six losses this season have been within a touchdown, and that means a few key plays here or there have been the difference.
Last week against the Cardinals, the Chiefs defense had three solid opportunities to come away with interceptions but wasn't able to secure the ball.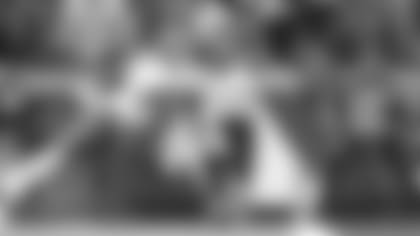 Reid spoke about that this week.
"We have to take advantage of those," Reid said. "We've had a few in our hands sometimes you can press and you almost try too hard and you end up not making the play. You've got to relax and focus in on the ball and squeeze it.
"Normally when you get one then you get another one and then they kind of build on each other, but we've got to get that first one and kind of get this thing started here."
After losing three straight, the best way the Chiefs could get out of a slump is on a big play from the defense or special teams.
The good news is the Chiefs defense has continued to be in position to make plays; hopefully they can secure a few on Sunday.
Kansas City Chiefs vs the Oakland Raiders in the 1980's