The Kansas City Chiefs (3-0) will take on the St. Louis Rams (0-3) on Thursday night at 7:00 p.m. CT at the Edwards Jones Dome in St. Louis, Missouri.
It's the final preseason game for both teams.
Even though these preseason games won't count on the final scorecard, many individual jobs are won and lost based on performances in these games, particularly of this final game as the final 53-man rosters have to be set by 3:00 p.m. CT on Saturday.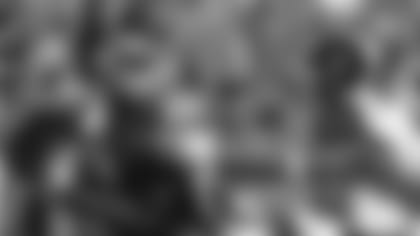 For the Chiefs, there isn't a shortage of storylines to follow on Thursday night either.
Before he was the color analyst for the NFL on CBS and the Chiefs preseason games, Trent Green was busy throwing touchdowns at Arrowhead Stadium. He currently ranks second in franchise history in passing yards (21,459), touchdowns (118), completions (1,720) and attempts (2,777).
He's well-versed in the game of football and he's got five things to watch in the game on Friday:
"I'm going to change it up a little bit this week," Green explained. "I know it's normally five things to watch, but it's going to be five positions to watch as we get close to the final cuts.
1. "The number one spot is the offensive line. It's been that way the entire preseason. Not only are we looking for the five eventual starters, but we're also looking for the depth. Which guys are going to be the ones to make the final cuts? So the offensive line is one we'll keep an eye on."
2. "Second thing is the wide receivers. We've had a lot of young guys make a big impact in the preseason. So do the Chiefs decide to keep six receivers or seven? And when they decide that, who will be six or seven they keep?"
3. "The next one for me is defensive backs. They have a lot of safeties and corners that could make the team. A big impact on that is going to be special teams, so keep an eye on which defensive backs are involved in the first unit of special teams."
4. "Along those same lines is my fourth position, linebackers. We've had a lot of good, young players step up. Frank Zombo is a veteran guy who can play inside and outside, and he's also a very good special teams player. How does that impact the decision to be made because of the youth in the draft picks that were used at linebacker? And they also are a big part of special teams as well."
5. "The fifth position to watch for me is going to be tight ends. I think everybody is pretty set on Travis Kelce. James O'Shaughnessy is the draft pick and he's been running the twos pretty much the whole camp. Who's going to be the third? Ryan Taylor got the majority of the reps through the preseason, but now Demetrius Harris is back practicing. They've been high on him in previous years. Who's going to be the third tight end they keep?"
---
Photos from the Chiefs week eight win against the St Louis Rams