One of the many great things about working at One Arrowhead Drive is the proximity between the stadiums of the Kansas City Chiefs and Kansas City Royals, allowing for days like Wednesday, when some of the Royals players paid a visit to Chiefs head coach Andy Reid's practice.
"It was great," coach Reid said. "We love their support and I know our guys support them. We're pulling for them; they're right there, making a push right now and we know they're going to get in the playoffs. We're wishing them the best of luck."
As excited as the Chiefs were to meet the Kansas City Royals, the playoff-contending Royals, including pitcher Aaron Crow had a blast on the Chiefs practice fields.
"When I was told about it yesterday, I was pumped," Crow said. "I went home, picked up my Eric Berry jersey, made sure I had it to wear today. I'm just excited for the season to start and hopefully this year brings something new and a lot more excitement. The Royals are doing great this year, so hopefully it will be even better if the Chiefs can turn it around and start being competitive too."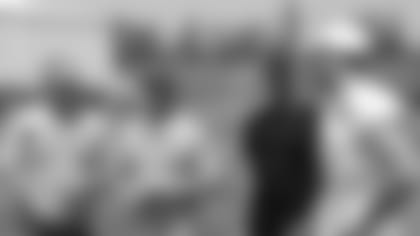 It didn't take the Royals long to gauge the vibe around Chiefs practice.
"It's excitement," Crow said. "Coach Reid had a lot of success in Philadelphia and hopefully he can come here and duplicate that success. Arrowhead and Chiefs fans are waiting for something good to happen, just like Royals fans are. The Royals are finally starting to turn it around and hopefully we have the same excitement around here, all the way through February."
Fellow Royals pitcher James Shields shared why the guys wanted to pay a visit to see the Chiefs coaches and players.
"We just wanted to come out and obviously support the Chiefs and it was real nice of Andy Reid to let us come out here today," Shields said. "We're having some fun with our season and we're just here supporting them. I've always been a big fan of coach Reid. He seems like a real cool guy and he seems real relaxed, which is really good for the players."
As the Chiefs continued practicing, I walked off the field with the Royals, who were heading back to Kauffman Stadium. I asked Shields to describe Chiefs practice.
"A lot of fast-paced stuff is going on," Shields said. "These guys work hard and I have a lot of respect for them. They haven't stopped since we've been here. They work real hard and they're doing their thing."
While the Royals continue their late-season playoff run, the Chiefs continue working to make sure their season is also one that has people talking, in 2013 and beyond.