The Kansas City Chiefs wide receivers had the day off from practice on Tuesday, but they spent it on the field as they hosted the Chiefs Football Fantasy Camp for the Special Olympics at Arrowhead Stadium.
Wide receivers Tyreek Hill, Albert Wilson, Marcus Kemp and Gehrig Dieter joined over 50 athletes from Kansas and Missouri of varying ages for an evening of football drills, touchdown dances and some autographs.
"We just came together with the Special Olympics kids and had a chance to play some football with them," Wilson said. Some of them were doing running back drills, some were doing wide receiver drills and on my end, we had a touchdown celebration contest. That brought a lot of character out of them. For somebody like to me to be able to impact them, that was really special to me."
Before the activities got underway, the Special Olympians were surprised with custom jerseys bearing each of their names hanging in the Chiefs' lockers.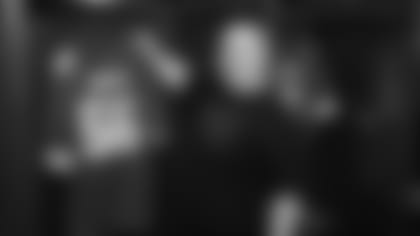 The smiles permeated throughout the locker room as the athletes dawned their new jerseys and ran out of the 50-yard line tunnel onto the field – just like the Chiefs do on game day prior to warmups.
"It brings me joy just to see their smiles and to see them happy," Hill said. "I love to see people happy, and I'm going to do whatever it takes to change this community."
The impact was felt thoroughly by the athletes in attendance.
"Events like this are important for them just so that they can feel like everybody else," said Robin Roberts, a volunteer coach for the KC Metro Eagles. "It gives them a chance to have a voice."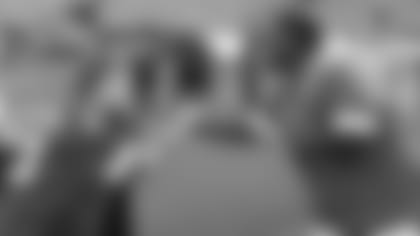 The Special Olympics strives to provide individuals with intellectual disabilities the means to discover new strengths and abilities, skills and to experience joy through the power of sports.
It empowers over five million athletes worldwide, including right here in Kansas City.  
"It's all about raising awareness for their situation and just giving them a chance," Wilson said. "They don't always have the opportunity to play sports or to compete with other athletes, so to have something for them so that they can go out there and compete is great. Competition is inside of everybody, so for them to go out there and do that, it's special."
And while it meant a trip to the office on their day off, having a chance to change a few lives was more than worth it for the four receivers in attendance.  
"I've always been the guy with the energy," Hill said. "I'm always going to bring it. I came out here to have fun - this is my job and my livelihood.
"This is what I signed up for."