There are plenty of mouths to feed on offense this season for the Kansas City Chiefs, from the familiar faces in pass-catchers Tyreek Hill, Travis Kelce, and Chris Conley to offseason acquisition Sammy Watkins.
After all, Hill and Kelce became just the fourth duo in franchise history to each tally 1,000 yards receiving last season, and prior to a season-ending injury in Week 5, Conley was off to the best start of his career.
And as dynamic a group as that already was, the Chiefs added a player in Watkins that found the end zone eight times in 2017.
Though while the talent on offense may be in abundance, any sense of selfishness is not.
"I think that's something that the coaches and management took care of when they drafted and brought in these guys," Conley said following practice on Monday. "The Chiefs have a great tradition of bringing in guys who are about the team - and don't get me wrong, we all want the ball and want to help us win, but if our brother gets the ball, we're going to go out there and throw a block to get him in the end zone."
It's one thing for Conley – a player raised in the Chiefs' way of doing things – to possess that attitude, but it's another for Watkins, one of the offseason's marquee free agents, to display a similar sense of selflessness as he enters his first season in Kansas City.
"I don't have to come here and be somebody I'm not," said Watkins when camp first began late last month. "I've got great guys that make plays [around me] and I can feed off of those guys. I don't have to make every catch in every situation. I know that if I'm not getting the ball, other guys are and they're scoring touchdowns.
"It's just about coming in and adding my fuel to the fire."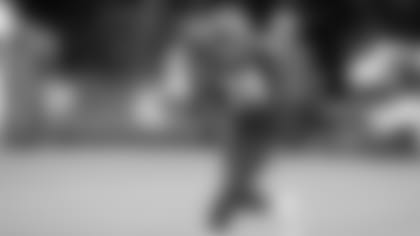 Sure enough, the four-year veteran has demonstrated that mindset throughout the Chiefs' time in St. Joseph.
"He's one of the most selfless dudes that I've been out here on the field with," Conley said.
And in fact – as roommates at camp – the duo has learned just as much about each other outside of the white lines as they have during practice.
"We've gotten into some crazy conversations," Conley said laughingly. "You know, Sammy is just a good guy to talk to about really anything. From football to life to ethics to food – we've sat in the doorway of our dorm room and talked for probably a couple hours this camp."
It's a tidbit that - while seemingly small now - could make a difference when the games start to count in September.
"It's just been good to get to know the guy," Conley said. "That's the guy that I'll be going to battle with."
Conley, Watkins and the rest of the Chiefs' offense will be taking the field this Thursday as the Chiefs kick off the preseason against the Houston Texans at 7:30 pm CT at Arrowhead Stadium. Catch the action on KCTV5 and 101.1 The Fox.