The Kansas City Chiefs averaged 13.2 points per game in the 2012 season, while totaling just under 170 passing yards in each contest.
Enter the new Kansas City Chiefs regime, including assistant head coach/wide receivers coach David Culley, who was hired by Chiefs head coach Andy Reid to prepare the wideouts for a much bigger and better season in 2013.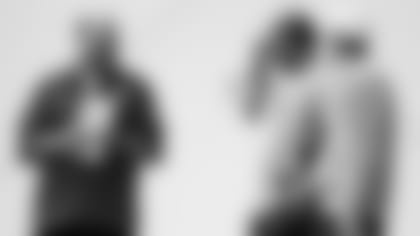 Since the voluntary workouts, as well as the OTAs, coach Culley's wide receivers are already noticing a difference.
"He's always motivating, he's always trying to help you get better and he's a guy that's always smiling and he makes you want to play for him," Chiefs WR Dexter McCluster said.
Fellow Chiefs WR Jon Baldwin agreed.
"That's how he is," Baldwin said. "He's a fun coach, too. He's a great coach to be playing for. It's a great thing to have him. He's going to do everything he can to teach you and have you take it out on the field and execute it from the meeting room and the classroom, so it's a good thing."
I've noticed on several occasions at practice that if coach Culley sees a player complete the drill but not as it should be done, he calls the WR back to immediately do the drill again, only better.
"If you're not doing the drill right, it makes no sense to go and move on; if you want to get it right, you have to go back," McCluster said of Culley's philosophy.
Coach Culley commands the respect from his new players because he has coached among the league's top wide receivers, including Pro Bowlers, Terrell Owens and DeSean Jackson.
"Coach Culley, he's been with some guys that have done great things in the NFL," Chiefs WR Jon Baldwin said. "So, for him to be able to be with those guys, who have been doing it for a long time and have proven that, it lets him be able to rub some of the stuff that he taught those guys and seen those guys develop into and bring it to us. It's a great thing to have him as a receiver coach."
Baldwin continued by describing the kind of coaching philosophy Culley abides by, in-your-face or players' coach mentality.
"He can be both," Baldwin said. "It depends on the situation; say, if you're going over something  five or 10 times or whatever it be and then you go out and make a mistake on it,  then he may be a little bit more upset; but, if you're with him and he says something to you one time and you go out and maybe you make a mistake, he won't be so much jarring on you because he'll just drill you a little bit more and just have you go practice it and take it from there."
There are countless lessons to learn in being a Pro Bowl-caliber wide receiver; Baldwin shared one that coach Culley stressed early on. 
"As a receiver, you want to get open, but at the same time, you have to be patient," Baldwin said. "Because not only are you running the route to win but you're also on the QB's timing and everything in this offense is based on timing, your rhythm; so, if you're on his timing, you have to be in the right place at the right time and make the play."
Chiefs fans have plenty of reasons to be excited about the upcoming season, including having their new WRs coach David Culley, in the right place at the right time, preparing the wideouts for a season that puts 2012 out of sight, out of mind.