The simplest words of advice can sometimes make all the difference in the world for a kid growing up.
The Kansas City Chiefs paired the willingness to give that advice with the latest in technology to make an impact in local kids' lives on Tuesday afternoon.
Wide receiver Chris Conley, along with Chiefs' cheerleader LaKeyna, met with several local elementary and middle schools through a virtual uplink that brought the duo into classrooms throughout the area.
Conley discussed the importance of character and the difficulties that kids face while growing up, such as dealing with peer pressure and bullying, as part of the NFL's Character Playbook LIVE program.
"I was able to sit in front of the camera with my cohost, LaKeyna, and talk to a bunch of kids about character and doing what's right," Conley said. "It was a different venue than what I'm used to, but I think this was really cool because I was able to talk to a lot of kids at once and interact with them in a way that's, although it's different, something that can still be effective."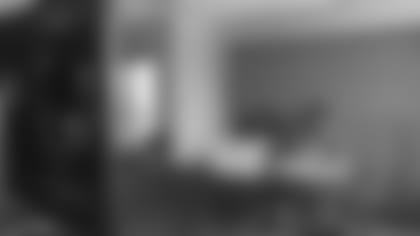 Conley answered questions, asked the kids to show off their touchdown dances and talked about what he went through as a kid growing up.
The potential to create change because of his platform wasn't lost on the third-year receiver.
"I remember being a kid like that," Conley said. "When I was in middle school, I knew nothing about football. I didn't even know the rules or how to play the game, but I still looked up to people who played sports and icons like that, and not necessarily because of who they were, but because of the jersey they wore. I knew what it represented, and so I want to champion that as long as I'm a Chief and make a positive change."
The league-wide Character Playbook LIVE initiative, which is presented in partnership with United Way, strives to engage kids in the conversation of why character matters.
Conley's efforts brought that conversation to hundreds of kids that may not have heard it otherwise.
"I want them to know that they're important to us and that they matter," Conley said. "I want them to realize that we want to invest in their future, we want to invest in who they are and the sky is the limit for them. They're at an impressionable point in their lives, but this is not the end of the world and there are so many places they can go from here."