It only takes one voice to make a difference in the lives of others.
That was the message of the 35th annual Nonprofit Connect Philanthropy Luncheon earlier this month, which brought together some of Kansas City's most dedicated volunteers for a morning of celebration.
The event served as a fundraiser for Nonprofit Connect - which delivers high-quality, affordable programs and services that strengthen hundreds of nonprofits around Kansas City – and this year, the luncheon was chaired by Kansas City Chiefs Chairman & CEO Clark Hunt and his wife, Tavia.
"The Chiefs were grateful to be honored as the Business Philanthropist of the Year in 2016, and we are delighted to be co-chairs of this event," Clark Hunt said. "I want to thank everyone here -  and Nonprofit Connect - for sharing our passion for supporting this city and caring for our community, as we celebrate the outstanding efforts of our honorees today."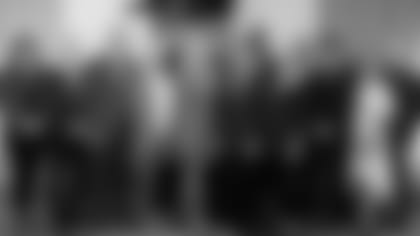 Founded in 1976, Nonprofit Connect serves more than 5,000 professional members from over 700 organizations with first-class resources, from professional development programs to facilitating employment.
By empowering local nonprofits to thrive, the organization is ultimately creating a lasting impact right here in Kansas City.
"As event chairs, this experience has really deepened our understanding of the good work being done by Nonprofit Connect," Tavia Hunt said. "They are keenly focused on helping our community by providing education on nonprofit trends, strategy and collaboration. They are an amazing asset to both nonprofits and businesses."
The organization's sole fundraiser is the annual Philanthropy Awards Luncheon, which has recognized more than 200 honorees in its 35 years of existence. The event strives to shed some light on Kansas City's most generous citizens, and that tradition continued earlier this month.
Among the individuals and businesses honored at the luncheon was one of the Chiefs' corporate partners in CommunityAmerica Credit Union, which was recognized as the Business Philanthropist of the Year.
"I couldn't be more honored to be here accepting this award on behalf of CommunityAmerica and our wonderful employees," said Lisa Ginter, CEO of CommunityAmerica Credit Union. "Nonprofit Connect does some amazing work with the philanthropic community, and what makes it even more special for us is that CommunityAmerica has been a part of this community for over 75 years. We were founded on the principle of people helping people, so it's in our DNA to help people out. Kansas City is like a big family, and we're here to support it."
Others honored included Joseph Jacobs III (Volunteer of the Year), Randy Wisthoff (Nonprofit Professional of the Year), Deanna & Greg Graves (Philanthropists of the Year), the Jewish Community Foundation of Greater Kansas City (Excellence in Impact), the "Giving the Basics with KCMO Police Department & KCMO School District" program (Excellence in Collaboration), and David Renz Pd.D. (Special Lifetime Achievement Award).