Q: What are your thoughts on how the season has gone this far?
HUNT:"Well, clearly during the five-game losing streak, we were all very disappointed. It's not what any of us expected going into the season. I was glad to see the guys get it turned around last week and play a solid four quarters of football, and the challenge for us now is to do that two weeks in a row and build from there."
Q: Have you or will you consider making any staff changes?
HUNT:"Well, first of all, any decisions on the coaching staff are Coach Reid's decisions, not mine. I have full confidence in Andy and John Dorsey, think they're the right people to lead our football team. They're as disappointed as I am, but I think they're the right guys to lead us not only this year but going forward."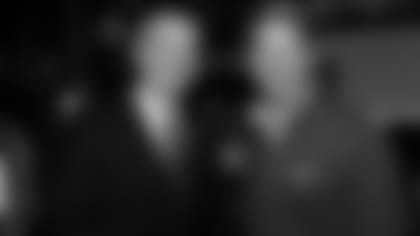 Q: So if the team ended up taking a top five or 10 pick in the draft, you still plan to stick with Andy Reid and John Dorsey?
HUNT:"I would, I would. They're both extremely talented, they do a great job. They have very good staffs, they do a good job of leading their staffs, so they're the right guys for the Kansas City Chiefs."
Q: What is your best explanation for the start?
HUNT:"I don't think there was a good explanation for it, and there wasn't just one thing. We lost as a team. Until last week when we played better across all three phases of the game and played a full four quarters, we just hadn't done what we needed to, to win a football game."
Q: Regarding the International Series, are the Chiefs done with home games overseas for the time being?
HUNT:"I don't foresee us playing a home game in the near future. It would be much more likely that we would play an away game before we would play another home game. Having said that, the League is going to expand the International Series. Beginning in 2018, there will be four games here (in London) and the League is already looking at other markets like Mexico, Canada, Germany, Brazil, maybe one day somewhere in Asia. I think the series is going to expand, but certainly, I don't want to give up another home game in the near future."
Q: Any regrets about giving this home game up?
HUNT:"No, none whatsoever. It's been a great experience for the organization. I know we have fans who are disappointed that this game is not at Arrowhead today, and I understand that, but I think it was the right thing for us to do for the Chiefs and the National Football League."
Q: When will the Chiefs go abroad as a road team? Is next year out?
HUNT:"No, I don't think next year is out. It could be as soon as next year, but I certainly would expect it to happen in the next three or four years."
Q: Being the chairman of the International Committee, how important was it for you to lead from the front on this, in regards to willingness to take part in playing an international home game?
HUNT:"Well, the Chiefs have never shied away from a leadership role in the National Football League. In some ways, I don't thing we were necessarily leading because I think there have been 10 or so other teams that have given up home games as well. I think there's a growing willingness among the ownership group to play games overseas. I'm just sort of thinking back to when we first approved the resolution where we played one game here, there were people that had a lot of concerns. I don't hear those concerns now. I think in part because so many teams have the experience of coming over here either as a home team or an away team, and the experience has been great. I think in part, the League has gotten better at helping teams with all the logistics that go with that. From everything I've heard from our football staff, this has been one of the easiest trips that they've ever made, in terms of a road game."
Q: Can an owner determine that their team will not travel internationally?
HUNT:"Well, I'll answer the question two ways. Owners, at this point, still can say 'I'm not giving up a home game.' They have that right, unless they're hosting a Super Bowl – then it's a requirement that they have to. But the practical matter is, going back to what I said earlier about just a growing acceptance, is teams understand what the league is doing in terms of growing the International Series and are willing to do it. And there's no longer significant concerns from a football standpoint that I think existed seven or eight years ago when the series started."
Q: All 32 owners approved of the expansion of the International Series – what would you say to an owner that approved of the expansion but doesn't want to give up a home game?
HUNT:"I don't see that at all. I think we'll see more teams willing to give up home games. Going back, again to the first couple years of this series, I think there were very few that were willing to do it. But now there's a bigger group and that's going to grow in the future and that's going to have to grow in the future. I don't know what the number of international games that will be played but it could be six, it could be as many as eight one day. And just practically, teams are going to have to give up home games. I think that there's an acceptance that it's good for the team, it's not bad from a football standpoint and it gives you a chance to grow your brand."
Q: And you're still confident that eventually, all teams are going to have to give up a home game for an International Series game?
HUNT:"Yeah, I think five years from now, we're going to look back and there will be significantly more that have given up a home game. At that point is it going to be every team that has done it? I don't know."
Q: Why do owners feel that England is such an untapped market?
HUNT:"Well, I think it's important for us to grow the National Football League from a fan standpoint, on an international basis. The NFL has a very strong position in the U.S., but internationally, unlike other sports – like soccer, which is obviously very international – even basketball, which has a pretty strong international following. Because American Football is typically only played in the United States, the growth hasn't been there. And so this was, at first, a test to see if we could grow the fan base here in the U.K. And there was a small existing fan base going back to the old days of playing preseason games here and for NFL Europe. But through the growth of this series here in the U.K., the number of avid fans here have doubled roughly over the last seven or eight years. So it's worked out, I think, as the League envisioned. And the thought process is now 'can we do the same thing in other markets?'"
Q:Have you seen fans in London over the last few days become engaged with the Chiefs?
HUNT: "From a fan standpoint, probably the best experience that the fans have had – and I enjoyed it to – was the pub party that we hosted on Friday. We had approximately 400 fans attend it. And there were a lot that came from Kansas City, but there were also a lot that lived somewhere in Europe who are Chiefs fans and this was their chance to come to a game that wasn't too far away. There were a lot that live here in the U.K. I met the guys who run the fan club here which, I was just told, started a few years ago – there were originally 50 members, now it's up to 500. I'm sure playing the game here this week had a lot to do with the growth of the fan club. So I think, really, on both fronts, it was a chance for us to engage our fans from home who wanted to come over for the trip as well as those who were here."
Q:Are you guys going to continue to be as aggressive in scheduling non-football events at Arrowhead?
HUNT: "It's a balance every year and this was an unusual year as far as the number of events that we hosted at the stadium. We're cognizant of the impact on the schedule. As I said, it's a balancing act with trying to figure out how to make it work, particularly with the Royals. And now we can count on the Royals being in the postseason every year. So we have to take that into consideration."
Q:Do you anticipate the schedule being as back heavy with home games in future year as it has been this year?
HUNT: "I sure would hope it's not as heavy (as) this year. And every year, we make a point of asking the League for as many home games in September and October as they can give us."
Q:And this year was just because of the London game?
HUNT: "Yeah, this was one issue that clogged the scheduling up."
Q:So next year can you ask for more games in September and October.
HUNT: "They'll listen to us and I think the fact that we had such an unusual year this year, where we've played so few home games – really, until mid-November – I do think that they might take that into consideration and help us with that issue."
Q:Remind us what the League is committed to internationally.
HUNT: "There's not been an announcement on next year, but that will be coming pretty quick. I would expect that there will be at least three games next year in the U.K., and potentially a game in another market. The League is working on that. When we get to 2018, the League has committed to play two games at Wembley, two games in Tottenham's new stadium – which will be open at that point. And then, again, no commitment, but a desire to be playing games elsewhere. So that would be the minimum beginning in 2018."