There is no day like Mother's Day and Kansas City Chiefs Chairman and CEO Clark Hunt agrees.
"Mothers' Day is such a great holiday because it's the one time of year, I think, we as males pause and realize what an important role the women in our lives play," Hunt said. "Not only the wonderful job my wife does in helping raising our kids, but also the job my mother did raising me and the job that my sister's doing in raising her kids, being a mother is a very difficult job and the women in our family do such a great job with it."
It didn't take long to see the type of influence Norma Hunt has in the life of her son, as Clark beamed at the sound of her name.
"My mother is an incredibly special woman and I'm blessed to be able to call her Mom," Hunt said. "What I've loved, over the last twenty years is having that relationship as an adult with her and she's almost like my best friend; she's a special woman Mom's are gifted in so many ways and Norma Hunt is no exception.
"My mother's greatest quality is her positive attitude, in almost every situation," Hunt said. "She was always reinforcing me in a very positive way, that didn't mean that she wasn't willing to correct me, when I needed to be corrected, but certainly she was going to find the positive, when she could and encourage me in that way. That's just a great example for me, not only with my children, but also from a business standpoint in working with others."
Hunt also acknowledged the all mothers on their special day, including Dee Ford's mother, who Hunt met during the Chiefs rookie introductory press conference last Friday. "Anybody who is a mother has one of the toughest jobs on the face of the Earth," Hunt said. "I just had a chance to meet Dee Ford's mother and she obviously did a tremendous job of raising this fine young man. He's so intelligent, so well-spoken and we're just thrilled to have him and his entire family a part of the Kansas City Chiefs."
The substantial role Hunt's wife, Tavia, plays also never goes unnoticed.
My wife Tavia is an amazing mother," Hunt said. "She loves our children and literally would do anything for them. She's also a great teacher; she takes every opportunity to instruct them, whether it's something in terms of our faith, in terms of school, or how they treat those around them; she's just an amazing mom. The same is true for all the women in my family. My brother's wife, Rita, they have a bunch of children and she's a fantastic mother, along with my sister, Sharron, as well.
In sports, you often hear coaches described in different ways, such as a player's coach, or those who are more business-like; in similar fashion, mothers have their own unique style of parenting that can also be described in various ways.
"She was a great combination of somebody who is very nurturing, but also somebody who tried to bring a bit of discipline to our lives," Hunt admitted. "A friend of mine and I, when we were about 13 or 14-years old, gave her a nickname, "The Big N" and we actually still refer to her by "The Big N" and most people, when they hear, think 'Well, that's a reference to her name, Norma', but the reason she got that nickname is, she was always telling us no."
While Norma Hunt may have said no many times in her life, and perhaps still does, there are at least 47 times when she couldn't, accepting invites to every Super Bowl played.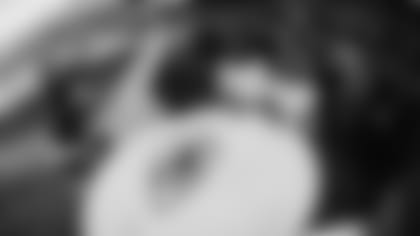 "My dad was always very big on streaks," Hunt said. "At one point, he had a streak where he had seen every Cotton Bowl for 50-some odd years and he got me running a race in Dallas, called the Turkey Trot, which was an 8-mile race on Thanksgiving morning and we got a streak going on that and I eventually ran about 25-straight Turkey Trots in a row. That was just sort of his mindset; once he got a streak going, it was hard to get him to break that and he then obviously shared that quality with my mother, who has a streak of Super Bowls. She is the only woman to have seen all Super Bowls that have been played and she's a little bit embarrassed about that because she thinks people can figure out how old she is, but she still looks like a 29-year-old, so, I don't think that's a worry for her."
Hunt is very grateful of the role his mother Norma plays not only in his life, but also in the lives of his children.
"She's fantastic," Hunt said. "She's everything that a kid would want in a grandmother, somebody who is involved in their lives (and) very interested in what they're doing. She attends all of their sporting events and other extra-curricular activities. She'll take them to do things on her own, to give her a chance to really get to know them. She's fantastic and our kids were so excited when she moved virtually next door."
What cannot go unmentioned is Norma Hunt's passion for sports.
"My mother is the #1 Chiefs fan, always has been and always will be," Hunt stated. "In general, she's an incredible sports fan. I don't know how many games or events she has seen, both live and on TV each year, but at the end of the day, the Kansas City Chiefs are her #1 passion, in terms of sports teams. She's so excited about (Chiefs head coach) Andy Reid and (Chiefs general manager) John Dorsey being here and all the good things that they've done in the offseason; I think she's like any Chiefs fan; she's counting the days until we start playing games." For Norma Hunt and all of the Chiefs fans counting, we're 89 days away from the Chiefs first preseason game, facing the Saints in New Orleans (Friday, August 9th).